19th September 2012
The EIS has signed a Memorandum of Understanding with the Scottish Parent Teacher Council (SPTC).
The signing, which took place at Drummond Community High School in Edinburgh, brings together Scotland's leading teaching union and the main membership organisation for parent groups in an agreement to work towards a better future for Scotland's school pupils.
EIS President Susan Quinn and General Secretary Larry Flanagan met with SPTC Convener Jeanna Brady and Executive Director Eileen Prior to sign the agreement.
The Memorandum of Understanding details how the two organisations will work towards shared priorities developed by the EIS and SPTC for the support of Scotland's education system.
Commenting on the Memorandum, EIS General Secretary Larry Flanagan said, "The EIS represents over 80% of Scotland's teaching professionals, including more class teachers, more principal teachers and more depute and head-teachers than any other union in Scotland."
"All teachers are acutely aware that active and supportive parental involvement in schools is absolutely crucial in delivering the best opportunities for all our pupils, so the EIS is delighted to be entering into this agreement with SPTC."
"These are times of budget cuts and uncertainty in the classroom and both the EIS and SPTC are committed to ensuring that a high-quality education system remains a top priority for Scotland's Local Authorities and the Scottish Government."
"Teachers and parents have a common goal in defending Scottish education from the damaging budget-cutting agenda, in order to deliver a brighter future for all our young people, especially through the introduction of Curriculum for Excellence."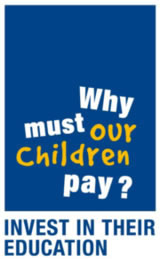 Mr Flanagan added, "The EIS campaign 'Why Must our Children Pay?' continues to highlight the damaging impact of budget cuts on our schools and for our pupils."
"Teachers and parents have marched together to defend our schools from the damaging austerity drive and, in formalising our working relationship with SPTC, we will give added impetus to the continuing campaign in defence of Scottish education."

"As we work towards delivering Curriculum for Excellence in our schools, proper support for an investment in education is absolutely crucial."
Eileen Prior, SPTC Executive Director, said, "SPTC works co-operatively with the many organisations involved in Scottish education so it makes sense to make that relationship more formal with the largest teaching union. Day in, day out we encourage parents to form productive relationships with school staff so we are putting that advice into practice!"
"SPTC brings a parent's perspective to the table and tries to ensure their needs and viewpoints are considered and understood in relation to school education."
"We are unique in that SPTC has always worked closely with teachers – there are teachers on our board of directors – because we recognise and value their experience and focus on children and young people."
Ms Prior added, "This Memorandum of Understanding gives our two organisations the opportunity to share information and bring our resources together where we feel this will bring benefit to all children and young people in Scotland, including pre-school and those in school-college partnerships."
A copy of the Memorandum of Understanding is now online.