Tuesday 1 March 2016
The EIS has told the Scottish Parliament's Education Committee that reforms to the Scottish college sector have largely failed to deliver on their promise.
While the regionalisation and mergers programmes were intended to enhance learning and teaching in colleges, the EIS believes that they have most often been misused as a means of implementing cuts to provision and staffing.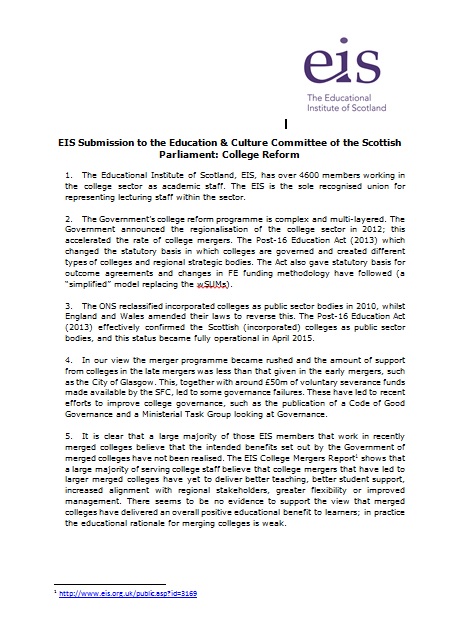 In its written submission to the Scottish Parliament's Education and Culture Committee on College reform, the EIS has highlighted that, overall, the educational case for the merging of colleges continues to be weak.
Commenting, EIS General Secretary Larry Flanagan said, "The regionalisation and mergers programmes were touted as a means of delivering a leaner, more efficient Further Education sector which would reduce duplication and deliver so-called efficiency savings but without having a negative impact on high quality learning and teaching in colleges.
"Unfortunately, the experience for students and staff has been very different with cuts to staffing, course provision and places, as well as reductions in student support over the past few years."
Mr Flanagan added, "With regard to staffing in particular, our lecturer members in Further Education continue to feel particularly aggrieved that the Scottish Government's promise of a return to national collective bargaining in the college sector has not yet been delivered.
The lack of any real progress towards nationally agreed pay scales, and the outright refusal from some colleges even to even take part in the process, has led to great anger across the sector and prompted the current statutory ballot of EIS-FELA members on a programme of strike action in colleges across Scotland.
"This ballot closes on Friday, and the EIS urges all lecturers who are being balloted to use their vote and to vote Yes for strike action in support of the campaign for fair pay in our colleges."