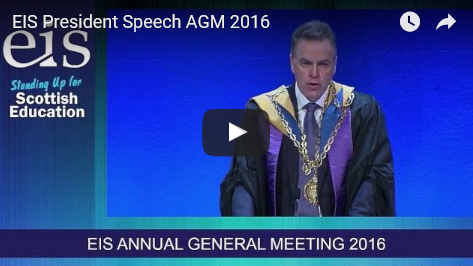 View video of President's Address
Welcome to the 170th AGM which falls between the forming of a new Scottish Government and the EU Referendum. I will make some remarks on the former and on the latter I predict that at the end of June we will still be in Europe - at least geographically.
Economic situation
I am happy to return to Dundee where I attended my first AGM in 2002 having become active in the Aberdeenshire Executive around the 2001 agreement. That agreement heralded a significant increase in education spending including a 23% restorative pay rise over three years, a significant increase in teacher numbers to reduce maximum class contact to 22.5 hours and additional classroom assistants and other support staff to free up time for teaching and learning. O happy days!
In 2010 our then General Secretary Ronnie Smith warned that "a decade of education, education, education was about to be followed by a decade of cuts, cuts, cuts".
Of course, Scottish teachers and pupils were not to blame for the financial crisis of 2008 but the political response of austerity has meant that we have paid the price.
Our Equality Committee's "Face Up To Child Poverty" publication contained advice to members on "poverty proofing" the school day and was very well received. However, it is shameful that such advice is needed in this day and age. The impact of austerity driven cuts, which have deepened the levels of child poverty, have created even greater barriers to educational achievement for too many of our young people.
Teachers have also paid the price in terms of real term pay cuts and significant detriment to our pensions – paying more, working longer and getting less. To rub salt in the wound, many members will have seen an actual net reduction in their April salary, despite a 1% pay increase, caused by National Insurance changes, for many an increased pension contribution to achieve the overall 9.6% contribution rate and for some promoted members the ending of the period of cash conservation.
It is perhaps worth recalling the promises made by the Tories in the 2010 election: austerity would clear the deficit and create conditions for growth and that "We're all in this together". Here we are in 2016 with welfare cuts meaning the poorest in society have paid the price, increasing levels of child poverty and increasing reliance on food banks. We have had the pain but for what gain? The deficit stands at £76b, national debt has increased by over 50% since the 2010 election and economic growth stands at a meagre 0.4%.
Indeed, recently a strong warning that austerity policies can do more harm than good has been delivered by economists from the IMF. Belated agreement with the STUC "There is a better way!" campaign.
One better way is to have a fair tax system at global and national level. The most surprising thing about the "Panama papers" was that anyone was surprised. Professor Gabriel Zuckman in "The Hidden Wealth of Nations" conservatively calculates that, as of 2014, at least $7.6 trillion or around 8% of the world's financial wealth was "missing".
The Global Alliance for Tax Justice, which is supported by Education International, campaigns for:
An end to secrecy and more public accountability for companies
International tax rules that are fair for all countries
Progressive, transparent and sufficiently resourced tax
Public investment in services and sustainable development.
Non-compliance with such basic principles by wealthy individuals and corporations has a direct impact on public service and on public education systems.
It is also worth recalling that the behaviours of the financial and banking sector leading to the 2008 crash can be firmly laid at the neoliberal policies introduced by Reagan and Thatcher in the 1980s and their blind faith in deregulated markets.
GERM
We are seeing attempts to apply the same failed philosophy to education. Last summer the General Secretary and I attended the World Conference of Educational International – a federation of over 400 teacher TUs with a collective membership of over 30 million members – and a key concern of the conference was the growing trend to privatise education and the highly negative impact this has for society, for students and for teachers.
This trend, which has been labelled the Global Education Reform Movement or GERM by Pasi Sahlsberg emphasises a market in schools, corporate governance type approaches, accountability, testing and privatisation. The evidence is clear that where this GERM infects an education system it creates, exacerbates and entrenches inequalities.
I recently attended the NUT conference which discussed their campaign against the UK Government's Education White Paper that seeks to continue the trend in England to "academisation" of all schools, abolition of national pay scales and allows such "academies" to employ anyone they see fit as teachers. This goes hand in hand with the high stakes SATS testing regime which serves to deepen the attainment gap rather than closing it.
Scotland
Given such trends, we should celebrate the shared commitment of Scottish society that education is a societal good and is, and should remain, a public service under democratic control. That common ground allows for a shared commitment to closing the attainment gap and addressing other national priorities by working in partnership.
Of course inequalities and poverty is a wider society problem that cannot be solved by schools alone but as a profession we know that schools can and do make a difference. We welcome the priority placed on education during and post-election and welcome John Swinney to his new post. We look forward to engaging in the Summit on Education recently announced by the Scottish Government.
A key message to political parties and representatives is to work with the profession to build on strengths. We can deliver improvements by the profession working in partnership with employers, Scottish Government and other Education bodies. There are no quick fixes, however, and a top down "improvement agendas" will fail to engage the commitment, energy and dedication of the profession and will not work. Improvement will only be achieved by a sustained and shared long term commitment with the active participation and leadership of the profession.
Attainment Gap
Of course, the best way to "close the attainment gap" is to stop it opening up in the first place. In his recent speech in Parliament John Swinney highlighted the crucial importance early years and childcare and committed to "an insistence on educational input to close the attainment gap before it begins to have a profound impact".
We commissioned research by the Child's Curriculum Group that once again confirms the value of teachers as part of pre-school setting workforce. Despite the evidence, over the last ten years we have seen a 29% reduction in the number of teachers employed in such services. The current "access to a teacher" does not, in many areas, provide sufficient educational input including meaningful interaction with a teacher.
Attainment Fund
The newly elected Scottish Government has committed to investing £750m over 5 years in an Attainment Fund. This is of course welcome but does not tell the full story.
The Local Government Benchmarking reports that the total education spend by Local Authorities over the last 5 years has, in real terms, been cut by £300m despite an increase of 20,000 in primary pupils and 10,000 early year places.
For this financial year COSLA reports a £350m cut in cash terms in the allocation to local government. The central point is clear; the additional Attainment money is topping up a bucket which is heavily leaking due to cuts at Local Authority level.
Governance
The question of Governance has been raised during the election. The national collection of school level data, the highlighting of "school clusters and educational regions" in the SNP manifesto and indications that some of the Attainment Fund will be passed directly to schools suggest a changing landscape in the governance and accountability between National and Local Government and schools.
The EIS supports local democratic control but that is not unconditional.
It was regrettable that COSLA were unwilling to sign up to protection of teacher numbers through the tripartite SNCT machinery.
The budget driven proposal to reduce the primary school week to 22.5hours was initially defeated by Renfrewshire EIS and parents but began to reappear as budget proposals elsewhere, notably West Dunbartonshire where it was again defeated. Following pressure by EIS, the Education Act legislated for the equivalent of 25 hours teaching time. That is a significant win for EIS and for primary pupils and parent.
We have regularly passed AGM motions to ring-fence funds to avoid budget cuts impacting education. We are clear that the decision to protect education spend or to make education budget cuts can be made at national or local level. However, these examples illustrate the need for a clear national framework to avoid budget driven postcode lottery at Local Authority or school level.
We also strongly support collegiate decision making at school level. We should also recognise that the 32 LNCTs provide valuable forums for local negotiation and professional dialogue on education matters.
Closing the attainment gap and other improvements will occur at school level and it is a reasonable starting point to ask all players in the Educational landscape how well they support schools to achieve such improvements.
Teacher numbers
The most common problem raised with me on visits to schools and LAs was teacher shortages that significantly impact on the workload of all teachers and can mean our promoted members covering classes in their management time. Ensuring there is a teacher in front of the class rather overtakes the school's improvement plan.
One of the difficulties faced in workforce planning is that planning at a national level whilst staffing decisions are taken at a local level.
An example is the attainment fund. We are not suggesting that all the Attainment Fund should be spent on additional teachers but for every £10m spent on additional teachers, an extra 250 teachers have to have been planned for.
The EIS has been successful in gaining a national commitment maintain teacher numbers. We continue to advocate for a national minimum staffing standard that provides a better mechanism to meet that commitment and underpin national workforce planning.
OECD Report
The OECD Report, Improving Schools in Scotland provides an independent review of the progress of the BGE phase of CfE. It paints a largely positive picture of Scottish education.
It confirms previous data that indicates that levels of pupil attainment compare well internationally and recognises that Scotland's teachers are 'engaged and professional'.
It confirms our schools are highly inclusive places that measure well in terms of social inclusion and social mix. It notes the positive upward trends in overall attainment and that levels of attainment compare well internationally and the positive trend in the number of pupils moving on to positive destinations. It also highlights the well-established challenges facing Scottish education.
NIF
One policy response to the OECD report was the National Improvement Framework including national standardised assessment. We strongly challenged earlier versions of the framework and the final version is an improvement and now recognises the key role of teacher professional judgement in the assessment of pupils.
However, concerns remain about the direction that the NIF may take and many teachers and parents remain sceptical over proposals in relation to national standardised assessments. Are they to be a tool available to teachers for diagnostic assessment or are they part of the accountability agenda?
It remains for the new Cabinet Secretary, John Swinney, to offer reassurance on the Scottish Government's plans and a firm commitment that there will be no return to high-stakes national testing or a league-table approach to measuring pupil progress.
SQA
he OECD report did not cover the senior phase of CfE where the introduction of the new Qualifications and the burden of assessment have placed considerable strain on teachers and pupils. A pressure that has been recognised both by the Scottish Government and Local Authorities.
The impact on pupils should not be underestimated. On the 16th March the Herald reported on "Health Behaviours in School Aged Children" research that found that Scottish teenagers are among the most stressed in Europe when it comes to school work pressures.
Further, there was a significant increase since the previous study in 2006. Dr Fergus Neville, researcher at the School of Medicine at St Andrews University said "I think it is a concern. When you see Scotland so high in the league table, it is a dramatic change in a relatively short period of time. It could be exam pressure is driving this". Indeed it could!
Our requests for a delay to allow time for schools to prepare were ignored and the new NQs were introduced in 2013-2014. Since the first Reflections report in August 2014, our members have been extremely patient but that patience is exhausted. It is our view that the SQA, in particular, has shown little urgency to take reasonable actions to address our concerns. The removal of unnecessary duplication was originally promised in August 2014 and we are now told it won't be delivered until 2017 or 2018.
Mr. Swinney has received a letter from Dr Janet Brown of the SQA claiming that everything possible is being done by the SQA to reduce workload without damaging the integrity of the national qualifications. We do not agree with the SQA and have previously submitted concrete proposals for change that could and should be acted upon immediately.
Our statutory ballot on industrial action is underway and closes on the 16th June. The work-to contract would, initially, amount to a withdrawal of cooperation with the SQA but will not impact on pupils. I urge delegates on your return to school to make one final push for a Yes vote in that ballot.
TU bill
For a UK Government that preaches about reducing bureaucracy, red tape and regulation to "free up business", it is unsurprising that they seek to reduce the effectiveness of TUs by increasing red tape by applying ever increasing regulation in the TU Bill. Although the campaign against the bill has had some success it has now received Royal assent and so presents a challenge to us.
The TU bill seeks to further obstacles in the way of representing members and of promoting a quality and equitable education system. But these must and will be overcome.
Indeed during the course of the year we have demonstrated that we can organise and build effective action. I refer to the highly successful action by EIS FELA which, as remarked by a number of delegates at the STUC conference, was not only a victory for our EIS FELA members and for the EIS but was a victory for the wider TU Movement.
In a sector disproportionately hit by the cuts, the members and leadership in FELA won a stunning victory in this first negotiation following a return to National Bargaining. After 11 months of little or no progress, the first of a planned 32 days of strike action led to urgent talks and a highly satisfactory outcome for FELA members.
A further success has been the 13 week campaign by West Dumbartonshire LA, including 6 strike days, against proposed cuts in education spend largely through reductions in promoted posts and Facultisation. The successful outcome, with a new curricular model based on subject PTs, has been a hard won victory with members showing a high level of determination.
Colleagues, this AGM pays tribute to the determination of our members in undertaking, persevering and winning both disputes.
The key lesson of these two very successful actions is the importance of active and organised school branches supported by strong associations and the national body working together.
EIS
An example of that is our Workload campaign. At National level we have secured agreements in terms of the publication of "Tackling Bureaucracy Report", a workload agreement at SNCT and are currently balloting on action related to workload demands generated by SQA demands.
The SNCT agreement now requires workload agreements at LNCT and school branches ensuring that "School Improvement Plans should set out agreed actions to reduce bureaucracy and tackle workload". LNCTs are charged with monitoring the impact of such changes at school and workload will only be reduced by such concerted action at national, local and school level.
At a national level, there has been considerable work done in revamping our EIS representatives training. We have increased the number of organisers to 4 in order to provide more support to Local Associations.
In my visits to Local Associations and schools I have been struck by the quality of teaching and learning and the wider community activities of our schools. The headlines that regularly report a crisis within Scottish education is totally at odds with my experience in such school visits. Yes we can and should improve but let us celebrate the success of our schools.
Thanks
I would like to thank the Local Associations and schools I visited for their hospitality and welcome. I would also like to thank our School Reps, Equality Reps and Learning Reps for the work they do for the Institute and for Scottish Education. Congratulations are due to Scott Mowat of Glasgow LA for his STUC Equality Award. The key leadership role that is played by our 32 Local Association Committees is of enormous importance to our members and to an effective national body.
In all the positions I have held in the EIS from school Rep to President the support from colleagues, Officers, Officials and staff has been second to none and I thank them for that support. I would also thank Aberdeenshire Council for their support in allowing me to fulfil my duties as President and my own Aberdeenshire colleagues for their support.
Closing
We are clear that as a Trade Union we have two mutually dependent goals: to defend the interests of our profession and to promote education quality and equality for the benefit of our pupils.
Colleagues, it has been the highlight of my professional life to have served Scottish teachers as President of the EIS. The future of Scottish education is worth fighting for and I have no doubt that the EIS will continue to be at the heart of that fight.