Introduction
Good afternoon colleagues,
I am pleased to be delivering my seventh AGM report; the first, in 2012, coming just a few weeks after I had taken up post. I am now at six years and counting!
Doesn't time fly when you are enjoying yourself.
In yesterday's debate, Penny Gower spoke of the General Secretary being appointed for life – I wasn't sure if she was making an observation or pronouncing a sentence!
I hope that there will be some life beyond my tenure as General Secretary – but that is a couple of years away.
I intend to cover three areas in this year's report: organisational matters; education issues; and finally the pay campaign.
Organisational matters
In terms of our organisation, I set out in 2012 an ambition to re-engage the membership in the activities of the union and to develop new layers of activism.
I think we have made good progress in this regard.
Of the 139 Council delegates who participated in my election as General Secretary, only 43 remain on Council next year – nearly two thirds of our Executive Council are fresh to the fray (relatively fresh at least, Mick Dolan is one of the newbies and he's older than me!).
But it does show a healthy renewal in our activist layer.
We have welcomed new delegates to AGM every year, and again this year we have 58 new first-time delegates. You are every welcome and I hope you don't hesitate to take to the microphones and have your say.
In terms of staffing, last year we had just appointed Eilidh Porelli to our Organising team and we have now just appointed out fifth Organiser post, Suki Sangha. Our Organisers will, I believe, show their value in terms of the pay campaign, acting as a catalyst for member engagement.
An Organising agenda, however, isn't primarily about staffing resource; it's about members being involved and active – that's our ambition. Not just member led, but members engaged. That's the agenda.
The backbone of that engagement remains our rep network. I want to express our thanks to the thousands of reps across the country who are the EIS to their members in schools and colleges. Our membership has grown by nearly 1,200 over this past year. Reps are the key contact and reason for that.
We held our first national reps conference this year which was very successful and we will be building on that. Organisationally – we are in a rude health.
Before moving on to look at some of the Educational issues facing us, I would like to put on record our thanks to the Institute's Accountant Colin McKenzie. Colin has intimated that he intends to retire early in 2019 so this will be his last AGM. Colin's stewardship of the Institute's finances over the twenty-two years that he has worked for us has been exemplary and we wish him well when he goes in February.
Education issues
Colleagues, this time last year we were at the start of consultations on Scottish Government's Governance review and we are now a few weeks away from the publication of what feels like "yet another" Education Bill.
I am not convinced that legislation is the way forward. International advisors have constantly said that what is required is cultural rather than structural. Scottish Government should ruminate on that advice.
There has been a lot of discussion and negotiation around what may or may not be in the Bill. The EIS has been very clear that what matters in Scottish Education, in the grand scheme of things, is what happens in the classroom. That's where the teaching and learning takes place, where the socialisation happens, where personal growth is encouraged, and relationships are formed. The classroom is the crucible of our school system.
It's what teachers do that makes the difference. Any paper reform which isn't supported by teachers is doomed to fail.
And we need to say clearly to Scottish Government, to Nicola Sturgeon and to John Swinney, that legislative change that fails to impact positively on teaching and learning in the classroom is simply playing politics.
Frankly, and we should say this to all the political parties and political leaders at every level of Government - we are tired of being a political football.
Health and Well-Being
The results of our recent Health and Well-being survey say it all: teachers are scunnered.
58% wouldn't recommend teaching as a profession. This figure has grown from 44% over the space of five years.
85% indicate that workload has increased in the past year despite the promises made to address our concerns.
The Deputy First Minister and myself attended the International Summit of the Teaching Professional (ISTP) in Lisbon earlier this year. One of the themes was on teachers' well-being with the OECD highlighting that teacher well-being was a prerequisite for student well-being.
It made the link between high levels of teacher self-efficacy and improved academic outcomes for students, and stated explicitly that PISA showed the most successful education systems are those where society values teachers.
Values teachers – we should turn that into a slogan.
Scottish Government took Scotland out of the international study, TALIS, which surveyed teachers on the sense of well-being and they have resisted our requests to re-enter it.
If we wish to deliver on pupils' health and wealth-being, and we certainly need to do that in a society where poverty is increasing and we have heard already about the negative impact on children's lives, then there needs to be a focus on teacher health and well-being.
So, if Scottish Government think our survey paints too bleak a picture, I'll make the invitation to the Deputy First Minister to co-construct a Health and Well-being survey that gives us the basis and the evidence for intervening.
We know that Scotland's teachers are over worked and stressed. And not only Scottish Government but also our employers, COSLA, need to take cognisance of that fact and seek to address it.
Teachers need control over their working lives, not to be controlled by bureaucratic line management practices from the last century.
Wasn't it hugely ironic that a consultation sub-titled "Empowering Teachers" had sections in it about a Head Teacher Charter, pupil voice, parental voice, Regional Improvement Collaboratives - yet not a word about teacher agency, about collegiate practice or about democratic schools.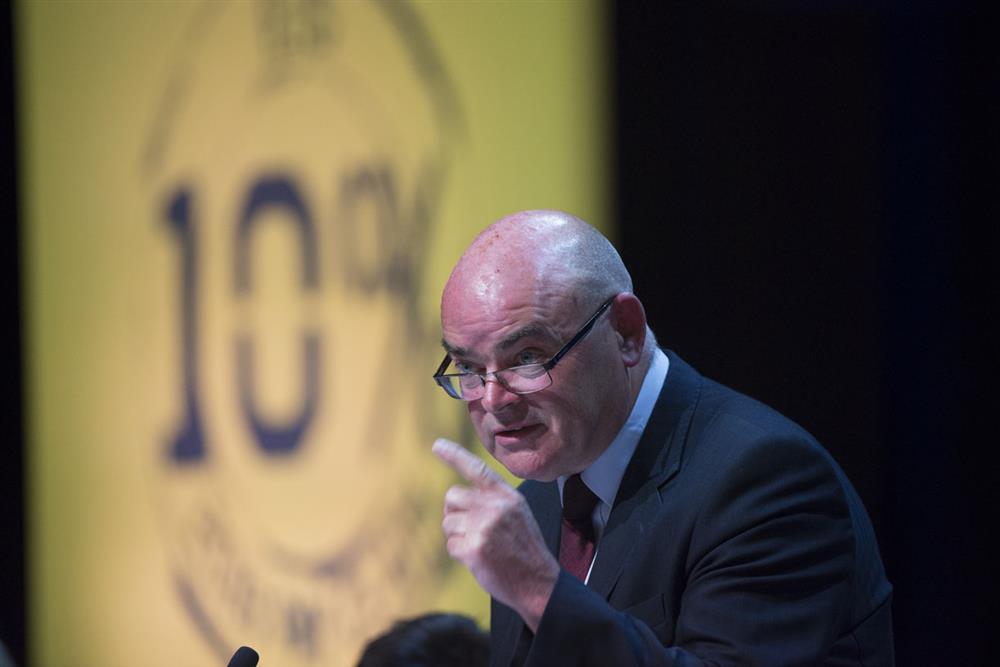 And to top it off, it proposed to "empower" teachers by removing the right for teachers to elect a teacher majority on its professional standards Council, the GTCS, replacing it with a Government appointed Board of a new Education Workforce Council.
It's not acceptable, Mr Swinney. We will be bitterly disappointed if that ill-conceived proposal finds its way into the draft Bill and if it does we will continue to oppose it. Hands off our GTCS.
I understand that some level of accord has been struck between Scottish Government and COSLA on the Bill, let's hope
we can add to that accord.
Our red-lines were set out clearly.
Not having SNCT and LNCTs side-lined in any way.
Not having Head Teachers turned into HR Managers.
Not having another layer of management bureaucracy created by Regional Improvement Collaboratives.
We are the third leg of the tripod, Mr Swinney, without us the structure topples over.
Interestingly, in the ISTP report I referenced earlier, Andreas Schleicher, comments very specifically that many of the countries with the strongest student performance also have strong teacher unions working constructively with policy makers.
We are happy to engage in that manner, but it needs a bit less hubris from those with power; Scottish Government, Education Scotland, Cosla, SQA, and a greater willingness from them to listen to our collective experience and knowledge and to act upon it.
Looking back, if they had done so in the past we could have avoided, for example; the rushed timetable with the new qualifications which has been at the heart of the senior phase turmoil of the past few years – the senior phase isn't out of the woods yet. We would have avoided the short sighted ending of the Chartered Teaching programme with the consequent stifling of career routes; avoided the introduction of faculties with the loss of subject leadership which it has produced; avoided the failure that has been Education Scotland for most of its existence; and we wouldn't be testing five year olds, we'd be engaging them in meaningful, rich learning through play.
Gail Gorman, the new Chief Exec of Education Scotland, spoke at our recent Education Conference and I think it was fair to say that she was well received as she outlined a new way of working at Education Scotland, seeking to offer more direct support to schools through the Regional Improvement Collaboratives' enhanced CPD opportunities.
We are happy to engage with that agenda and we support the notion of leading from the middle, leading from the classroom, but we are a little wary, a little sceptical. Born out of bitter experience.
As Susan said yesterday, I think the fact that we had over 200 members registered for a Saturday Education conference to hear Pasi Sahlsberg, and a fully subscribed Professional Learning conference with Carol Campbell, is indicative of how seriously the EIS takes the professional agenda.
We're happy to engage in a partnership approach around professional learning but it must be of equal partners.
We would welcome, Mr Swinney, a period of calm where we can focus on teaching and learning.
pay campaign
Colleagues, if I may, I'll move to the final section of this report which is in relation to the pay campaign.
There will be a major debate this afternoon and I don't want to cross into the territory of the motions – that is for you as delegates to debate.
I will begin by paraphrasing the late great Dale Winton, "we're in it to win it."
The campaign was determined here at AGM last year, built on the experiences of FELA and West Dunbartonshire.
We recognised that we had to build support in a very practical and thorough fashion.
I think we are getting our message out to the public, our billboards have been highly visible.
We even took out an advert in the SNP Conference programme, which looks good!
In particular, I think we have got members engaged. 10% is the claim and I think members know our ambition.
What about previous pay claims? The truth is the whole trade union movement has been on the back foot for a decade.
Safeguarding jobs has been a priority. We secured an agreement in 2011 about protecting teacher numbers, one positive aspect of that deal, and by and large it has held good.
Scottish Government has had to strong arm local authorities in to abiding by the safeguard. To give him his due, John Swinney as Finance Minister, effectively ring fenced the money for teacher numbers.
However, Scottish Government has made a big play this year about teacher numbers rising, as they have by an overall figure of about 600.
The truth, however, is that around 800 teaching posts, counted in the census, are funded by PEF which was supposed to be about additionality.
If you take those out, the headline figure has actually dropped at a time when pupil rolls are rising, hence the virtual standstill in the pupil teacher ratio.
The demographic reality is that we need more teachers just to stand still, which leads us to the recruitment and retention challenge at the heart of our Ten for 10 campaign.
As the President mentioned yesterday, we have failed this year to fill the vacant places on ITE courses, not just in STEM subjects but others such as Home Economics and even for English courses.
Why? Because graduates can earn more in less stressful jobs, with better career progression opportunities.
This isn't campaign rhetoric; it is hard cold fact.
And at the other end of recruitment, we have the retention challenge. A record spike in teachers aged 44-55 are exiting the profession. Why? Well it's no coincidence that this is the first group of teachers who have been conscripted from Normal Pensions Age 60 to 67/68, and they are just saying No.
If the recruitment and retention challenge isn't faced up to, and our pay campaign is predicated on facing up to it, we will read more stories about undergraduates being pulled in to support Maths classes and letters being sent home to parents asking for help in staffing classrooms.
So, Scottish Government and Cosla, if you think 10% is unaffordable – consider the alternative.
The Labour Party in England stood last year on a platform of a qualified teacher in every classroom. It is shocking that in the 21st Century that is an ambition rather than a reality, but that's the consequence of the recruitment crisis they have south of the border, which Kiri Tunks outlined for us yesterday.
If we don't want to face that in Scotland the answer is simple, begin to value teachers.
You know 10% only takes us up to the average teacher salary in the OECD. Scottish Government loves the OECD – love us!
10% only takes us up to the average graduate earnings after five years.
And, of course, 10% takes us to the top of the main grade to parity with FE lecturers. I'm sure they won't mind us utilising their slogan of equal pay for equal work.
It took six days of strike action for FELA to win its dispute – remember that.
We need to keep building the campaign and building the pressure.
It is not enough to have the arguments – we have those already.
It is not enough to have the moral high ground - we already occupy that.
It is not enough to hear sympathetic noises - welcome though that is.
That means persuading members, one by one if necessary, to put an X in the Yes box when the question is asked.Scottish Government will only concede our claim if they believe our threat of strike action is a real one.
In my speech back in 2012, I spoke about the EIS as a trade union being resolute. A union with a history of using its industrial muscle when required.
We need to draw on that history now colleagues.
Because this is our best chance in a decade to demonstrate the power of the EIS as a trade union.
A collective voice for the profession and of the profession.
Teachers are looking for a landmark settlement from this campaign and we expect Scottish Government to meet our demands.
Teachers have delivered over and over again, despite the constant change, despite the ever-increasing workload and despite the impact of austerity on reducing teaching resources and undermining services such as Instrumental Music Tuition – it is time for Scottish Government to do the same.
If you value Education, Mr Swinney, then show that you value teachers as well.
Colleagues, we cannot afford to lose this fight.
So, let us renew our efforts and our focus to deliver the victory that Scottish teachers desire and most certainly deserve.
In it to win it, colleagues. Solidarity.