Modern Scotland is becoming a nation that is increasingly conversant with the language of trauma.
Many teachers across the country have in recent years attended training on the impact of 'ACES' – Adverse Childhood Experiences – and begun to develop trauma-informed practice and pedagogy.
In plainer English, we know more now than ever about how traumas such as abuse, separation from family and neglect can affect a child across their whole life course.
It was in that light that I absorbed the powerful testimony I heard on the evening of 22nd January, at a Holocaust Memorial Day Trust event in the Scottish Parliament. The event had been organised by Sheila Watson, an EIS member who is an Art Specialist working in various primary schools in Edinburgh.
Attendees, including the EIS President Alison Thornton and Vice-President Bill Ramsay, were privileged to listen to several excellent speakers, but none more sobering than Holocaust survivor, Janine Webber BEM, who shared the story of her extraordinary childhood.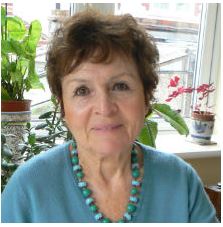 Janine's early life was characterised by loss, fear, hunger, and endless transitions from one dangerous situation to another equally or more hideous.
The eastern Polish town in which she was born and raised was home to 150,000 Jews before the Second World War; more than 90% of them perished at the hands of the Nazis, or due to starvation or disease caused by the dire conditions in the ghetto, created by the Nazi regime.
The horrors of the Nazi concentration camps are well documented, and widely known; but Janine's story centres on the children – herself and her siblings – who evaded the camps, and who lived mostly in the ghetto, a story which has perhaps been told less often.
Janine spoke of many moves, and multiple hiding places, including a hole in the ground in which she lived, starving, and with one book to read over and over again, for a year.
She moved from her home to a flat, to the ghetto, to a farm, then another farm, then to that dark cramped hole (which had been dug under someone's stable), then to a Convent, a priest's home, another home where she served as a maid, then to first one children's home, then another – it was hard to keep up with her journey, and to imagine how terrifying it would be for a child under ten to be constantly on the run, fearful for her life, and all the while grieving her parents and siblings who were killed at various points by Nazi soldiers.
I felt humbled to be in the presence of someone who had lived through so many and such deep traumas and whose strength and resilience seemed evident (although Janine attributed her survival purely to luck).
Hearing her speak of her 7 year old brother being killed in front of her was extremely moving for everyone present. More powerful still was hearing her say, "I am not somebody who despairs or is angry."
Janine is now 86 years old and feels passionately that Holocaust Survivors must share their stories; and that young people in particular must stand up to intolerance. In her own words, "It is so important to stop persecution; not to stand by or to be indifferent to persecution but to fight against it."
Holocaust Memorial Day is on 27 January 2019; this day marks the anniversary of the liberation of Auschwitz-Birkenau, the largest Nazi death camp. We urge members to take part in remembrance.
Holocaust Memorial Day (HMD) provides an opportunity to remember the six million Jews murdered during the Holocaust, the millions of people killed under Nazi Persecution, and all of those murdered in subsequent genocides, including in Cambodia, Rwanda, Bosnia and Darfur.
As HMD Trust puts it, "Our world often feels fragile and vulnerable and we cannot be complacent." We owe it to all who died, and to those like Janine who survived such traumatic events, to continue the fight against prejudice and injustice wherever we find it.