At the EIS event "Taking Pride in Teaching LGBT+ Young People" Education Scotland Senior Education Officer for Health and Wellbeing Suzanne Hargreaves delivered a keynote address on inclusive Relationships, Sexual Health and Parenthood resources.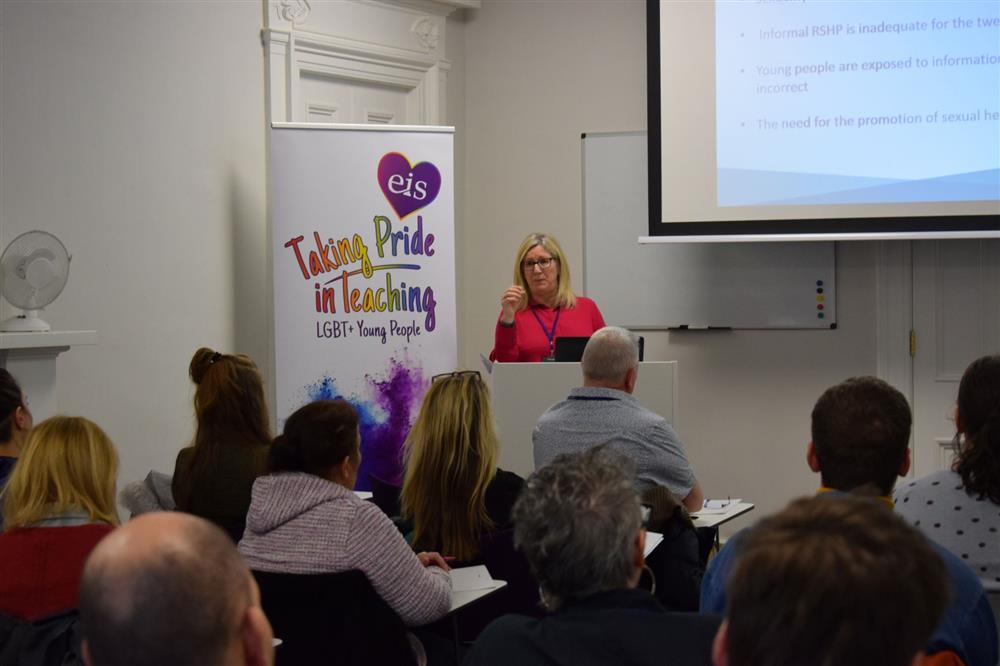 Suzanne discussed in detail the context and development of new guidance and supporting resources for the teaching of inclusive Relationships, Sexual Health and Parenthood (RSHP).
This included an overview of European standards as promoted by the World Health Organisation, as well as research from UNESCO identifying that access to sexuality education resulted in positive outcomes for young people.
Suzanne reinforced this with the rights-based argument for inclusive RSHP as articulated by the UNCRC, and Scottish research which shows children and young people want to learn about LGBT+ identities and experiences even where there is resistance from senior teachers.
Attendees heard about the current state of RSHP in Scotland and key changes and challenges over the past 10 years, including lack of progression and coherence across phases and levels of study.
A key challenge noted was the multiple 'learning sources' available to young people, amongst which schools need to be a safe and supportive place for young people to access accurate information to counter potentially harmful attitudes and representations online and in the media.
Suzanne detailed how Education Scotland, in partnership with the EIS and other members of the relevant working groups, has been developing new curriculum-linked resources in response to these challenges, and was now in a position to roll these out to practitioners alongside forthcoming revised statutory teaching guidance and related professional learning.
Participants then had the opportunity to engage with the new RSHP resources, available via https://rshp.scot/, and reflect on how they might use them. Suzanne encouraged EIS members to see themselves as an advocate for inclusive and high-quality RSHP in their institutions, and to build a community of practice around the values of respect, privacy and consent to deliver understanding and equality.
Some strong key messages Suzanne offered were around what Education Scotland are hearing young people say around LGBT+ education:
Young people want to know how to deal with social media and pornography
Young people want space to build acceptance into education and schools
Young people want to understand more around consent and abortion.
And key roles for practitioners:
Modelling positive behaviour and language for young people to use
Working with young people to understand what a healthy relationship looks like, with all people that matter in their lives – in person and online
Understanding how we all can be critical consumers
Empowering young people to understand what is meant by consent.
In Q&A, members raised questions about whether this approach towards RSHP will be implemented in denominational schools, and the extent to which school inspections will look for and reward active implementation of inclusive RSHP.
Suzanne explained that representatives of denominational schools, such as the Scottish Catholic Education Service, had been involved in shaping resources appropriate for denominational schools, and while Education Scotland acknowledges the range of challenges for implementation in these contexts the new RSHP resources are designed to support all schools in meeting their responsibility to uphold equality and inclusion.
Attendees also heard that the inspectorate will look for evidence that schools are meeting their responsibilities around protected characteristics, and that inclusive RSHP is an essential component of that.
Click the slide below to access the keynote powerpoint presentation.