At the EIS event "Taking Pride in Teaching LGBT+ Young People" TIE Campaign Co-founder Jordan Daly Led a workshop on LGBT-Inclusive Education: Getting Started on Curriculum and Classroom Content.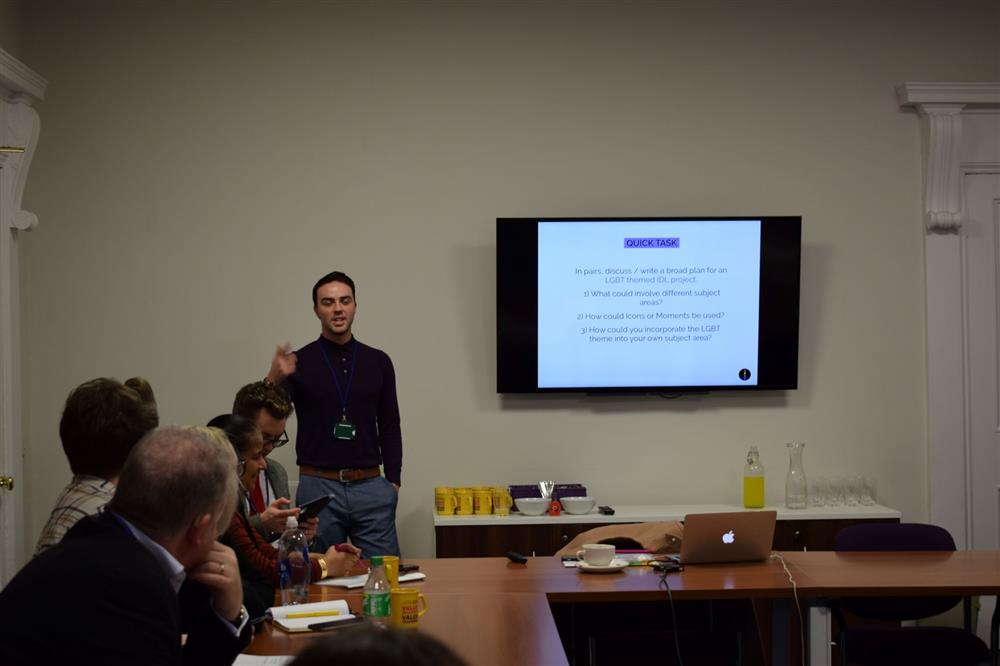 Jordan led a detailed and interactive workshop, articulating the distinction between being LGBT+ inclusive institutions and teaching LGBT+ inclusive education.
Outlining the history of the TIE campaign and reflecting on his personal experiences, Jordan invited participants to consider the ways in which homophobia, biphobia and transphobia manifest in schools and colleges.
Attendees reflected on appropriate responses to 'active' and 'passive' homophobia; 'active' coming in the form of bullying and harassment which should be dealt with through relevant school procedures, and 'passive' being the use of homophobic language and ideas without prejudicial intent.
In relation to both of these, Jordan led members in considering what makes for effective allyship and inclusion in a school setting.
Focusing on opportunities for integration of LGBT+ histories and figures into teaching in order to normalise LGBT+ identities and experiences, Jordan introduced participants to the TIE campaign's flagship 'Icons' and 'Moments' resources, and gave examples of how they had been used effectively in schools.
Participants discussed what sort of impact they thought this might have on young people's experiences, and began to identify how they might use these resources in their own teaching practice. Jordan especially emphasised the CfE and subject-specific links in TIE's resources, including lesson ideas and examples, ensuring that representation of LGBT+ identities is possible across all curriculum areas.
The workshop concluded with attendees identifying next steps they can take in their own institutions to make LGBT+ inclusion a reality in their settings, including use of resources and sharing ideas with others in their school.
Further reseources can be found via https://www.tiecampaign.co.uk/resources