The EIS has expressed its disappointment in today's Scottish Budget statement, particularly in relation to the continuation of a public sector pay policy which has failed to resolve local government pay claims for the current year.
It has called upon the Scottish Government to match its professed commitment to education by delivering a fair pay deal for Scotland's teachers.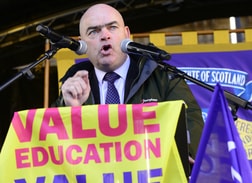 EIS General Secretary Larry Flanagan said, "The Finance Secretary has made great play of the Scottish Government's professed commitment to education, but has failed to demonstrate a willingness to address teacher concern over pay, or indeed the concerns of other local government workers – all of whom are still waiting for agreement on pay increases due last April."
Mr Flanagan added, "Our members are looking for both the Scottish Government and Scottish local authorities to demonstrate that they value teachers by delivering a fair pay deal."
"The EIS also calls on all political parties to support improved pay for Scotland's teachers, and to act to ensure that local and national government delivers fair pay for all of Scotland's teachers."
"Our members have been more than patient with regards to their pay, but that patience is now exhausted. A failure to listen to the teaching profession will force teachers down the route of industrial action."
Mr Flanagan also commented on the planned increased investment in pre-5 services: "The planned additional investment in Early Learning and Childcare is welcome but in light of yesterday's Teacher Census statistics, which highlighted an 11% cut in the number of Early Years Teachers over the past year, the irony of the announcement will not be lost on teachers, especially from a Government which previously included in its manifesto a commitment to all nursery children having meaningful access to a qualified teacher."