Commenting on the release of this year's Teacher Census figures, following the publication of both teacher vacancy statistics and student teacher intake figures, EIS General Secretary Larry Flanagan said:
"The figures published by the Scottish Government yesterday and today only serve to highlight the growing teacher recruitment and retention crisis facing Scottish education.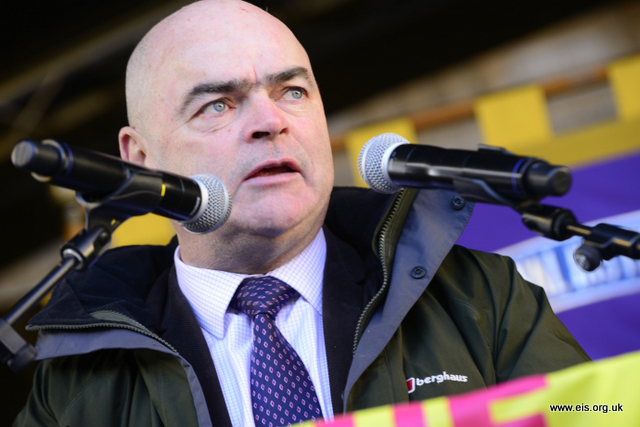 "Yesterday's figures confirmed that there are still significant gaps in student teacher intake, with particularly acute problems in more than half of secondary subjects including English, Maths, Chemistry, Physics, Modern Languages and Geography."
"Teacher vacancy figures also displayed the continuing worrying trend of substantial numbers of posts remaining vacant, unable to be filled."
"Today's teacher census figures provide further confirmation of the growing teacher recruitment and retention crisis. The Scottish Government lauds the fact that teacher numbers are now at their highest level since 2007, but we also have a large increase in the number of pupils in our schools which means that pupil-teacher ratios remain at an absolute standstill compared to last year."
"The Scottish Government also seems particularly keen to highlight teacher numbers and class size levels in primary, but has failed to gather or publish any equivalent data on secondary class sizes – where we know that significant recruitment difficulties continue."
"Even at the primary level, the data for the number of teachers employed is inflated by the inclusion of a growing number (962 FTE) of Pupil Equity Fund (PEF) funded teaching posts. These posts, valuable though they are, are short-term only and not guaranteed to be retained in future years."
"These PEF posts were always intended to be additional resource on top of the existing teacher workforce – but strip out the PEF figures (962 teachers) and there are just over 51,000 teachers employed in Scotland, compared to more than 55,000 in 2007."
"The particularly bleak picture in Early Years Education continues, with yet another year of deep cuts to the number of GTCS registered teachers employed in nursery schools and nursery classes. There has been an 11% cut in the number of teachers working in the sector over the past year, going from 921 FTE last year to 821 FTE this year."
"Added to this, in figures not included in the main report by buried in a table in a separate document, there is confirmation that many Early Years establishments employ no GTCS registered teachers at all. This makes a mockery of the Scottish Government's stated commitment to a high-quality educational experience in the Early Years, and highlights the growing postcode lottery of provision for 3 and 4 year old children across Scotland."
"Overall, the recruitment and retention crisis in Scottish education remains very real, and very damaging. This must be addressed by enhancing teachers' pay in order to attract new entrants and to retain experienced teachers at all grades."
"We will now be looking for significant additional investment to support better pay for teachers from the Scottish Government in its Budget announcement tomorrow."