Following yesterday's announcement by the Scottish Government of a Review of the Senior Phase of secondary education, the EIS has called for the review to remain cognisant of the challenging environment in which Scottish education has operated in recent years.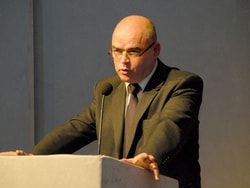 Commenting following the announcement of the Review, EIS General Secretary Larry Flanagan said, "While it may be appropriate to take a close look at the Senior Phase to ensure that it can meet the needs of all learners, there should also be caution in light of the degree of change that Scottish education has faced in recent years."
Mr Flanagan continued, "The EIS submission to the Scottish Parliament's Education Committee Inquiry made clear that the Senior Phase has yet to achieve all of its aims but as far as teachers are concerned a period of stability and consolidation, especially around qualification changes, is now essential."
"A direction of travel has already been established towards exit qualifications and the use of timetable models which allow for deeper learning – any review must recognise that further enforced national changes would be hugely disruptive."
Mr Flanagan added, "The damaging policy of enforced austerity has placed considerable strain on schools, with significant cuts to staffing and resources."
"Coupled with increased workload pressure on teachers and learners and exacerbated by frequent change to course content and structure, this has created real challenges for schools. The Senior Phase review should reflect on this reality before suggesting any further changes to the system."