The Teachers' Panel of the SNCT has warned COSLA and the Scottish Government that time is running out to deliver a fair pay offer to Scotland's teachers.
A revised pay offer was anticipated at an SNCT negotiating meeting earlier this week, but COSLA and the Scottish Government brought nothing new to the table. Their previous pay offer, based on a 3% cost of living increase, was overwhelming rejected by Scotland's teachers in recent ballots by teacher unions.
Commenting following today's Teachers' Panel meeting, EIS Salaries Convener and Teachers' Side Chair Des Morris said, "The Teachers' Panel today expressed their anger that COSLA and the Scottish Government had failed to bring any new proposal to the negotiating table this week.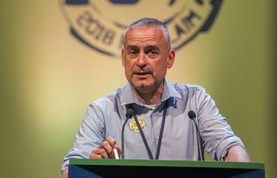 "Teachers' side negotiators have been very clear on the timetable for negotiating on this year's pay deal, which was due to be paid to teachers in April.
"Following many months of protracted negotiations, and with the year itself almost over, we have reiterated to both COSLA and the Scottish Government that a substantially improved offer must be made in December. Should no acceptable offer be made, a move to industrial action ballots by teachers' unions will become inevitable."
Mr Morris added, "It is simply unacceptable for COSLA and the Scottish Government to seek to drag this process out any further. They also cannot fall back into the old tactic of blaming each other, or others, for the lack of progress in making a new offer.
"Responsibility for negotiating with teachers' representatives on pay lies with the Scottish Government and, equally, with COSLA as the representative of Scotland's local authorities.
"The recent national demonstration and overwhelming ballot results have shown that Scotland's teachers are absolutely steadfast and completely united. They will not be fooled by continued stalling or by a blame game between local and national government.
"It is time for COSLA and the Scottish Government to deliver, or force Scotland's teachers into ballots on industrial action in pursuit of a fair pay settlement."