Having trouble viewing the email below? Click here

| | |
| --- | --- |
| | February 2018 |
Updates and Meetings
EIS Learning Reps - network meeting dates 2018
This meeting will be held at EIS HQ at Moray Place.
EIS Learning Reps – recruitment, training and support
If you know anyone who would like to become a Learning Rep, you can advise them to contact Lesley Walker or visit the Learning Reps page of the EIS website for more information.
A new group of LR students begins training this month. If you are interested in offering your support as a mentor, please contact Lesley Walker.
EIS Learning Reps - Protocol
This has been slightly revised and is available to view here.
EIS Resources
Supporting Older Women in the Workplace
Local events to promote this EIS guidance are being organised. If you would like to get involved, please contact Lesley Walker
EIS Action Research Grants 2018-19
The EIS is offering grants of £500 to members wishing to carry out research in their setting. The deadline for applications is 27th April 2018. For more information and how to apply please visit the website here.
Scottish Education Journal
We always welcome member-produced content for the SEJ. If you have something you'd like to write about, be it an inspiring piece of professional learning, a local CPD event you've organised, or an educational issue you feel strongly about, please get in touch!
EIS Education Conference
Save the date!
The EIS Education Conference is taking place on Saturday 28th April 2018 at the Technology and Innovation Centre, University of Strathclyde, Glasgow. Internationally renowned Finnish educationalist Pasi Sahlberg is the main keynote speaker.
To register your interest contact Leigh Meechan in the Education Department.
Other Upcoming Events
STEP Conference - The Journey to Excellence and Equity for All
Saturday 3 March 2018, Stirling Court Hotel. Now booking.
Confirmed keynote speakers are John Swinney, Deputy First Minister, and Dr Suzanne Zeedyk, a research scientist fascinated by babies' innate capacity to connect.
Parental Engagement: In conversation with Janet Goodall
Friday 16 March 2018, Moray House School of Education. Now booking.
Janet has been an active university teacher and researcher for a number of years. Her recent work has been on parents' engagement in their children's learning, particularly as a means of school improvement.
Her publications include the Toolkit for Parental Engagement and the book Narrowing the Achievement Gap: Parental Engagement in Children's Learning.
Partner Professional Learning
Social Enterprise Academy
Offers a range of professional learning and development options across Scotland. Please visit their website here for more information.
City and Guilds
Offers a Masters in Education, in partnership with the EIS. The first unit is fully funded. For more information see the EIS website here.
Exploring Professional Learning
A 2-hour engagement workshop for teachers to explore professional learning and co-construct future approaches, to be held on Saturday 17th March 2018 at Stirling Management Centre. More information can be found on our website.
Curriculum leadership - Aberdeen 1st March
This is one of a series of events designed to support principal teachers in their ongoing development as a middle leader. Book your place here.
Scottish Union Learning
Offering Personal Cyber Safety workshops – book a workshop for your school or college staff and the team will come to you. For more information contact Kirstie Steele.
Other professional learning providers and resources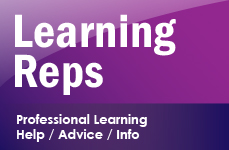 The EIS is aware of professional learning opportunities through the following providers, and while we do not specifically 'endorse' providers or resources, we would love to hear feedback on the experiences of members who take part in professional learning offered by these providers, or about any resources accessed through them.
The Global issues, Global subjects project aims to provide materials, training and support for Global Citizenship through an overarching theme of dealing with controversial global issues and the Sustainable Development Goals. Teachers will have an opportunity to participate in seminars and conferences across Europe. Scotdec is currently seeking secondary teachers from a range of subjects to take part in the first part of the project.
Hear from people living with HIV by booking one of our educational talks for your school or college. Positive Voices is a community project where people living with HIV share their personal stories and engage the wider community with the aim of raising awareness of HIV and promoting good sexual health for everyone.
New from Dyslexia Scotland – an online hub for young people aged 8+.
Copyright © 2018 EIS All rights reserved. If you do not wish to receive further e-bulletins please email membership@eis.org.uk with the title unsubscribe Learning Reps e-bulletin