Having trouble viewing the email below? Click here

| | |
| --- | --- |
| | December 2018 |
Season's Greetings from the General Secretary
Artist: Suki Sangha
Colleagues
As this is the final all members e-bulletin of the year, may I wish everyone seasonal greetings and express the hope that you enjoy a well-deserved break over the holiday period.
Larry Flanagan
Teachers' Pay Campaign - Budget Update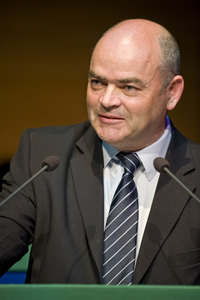 Finance Minister Derek McKay failed in his budget statement, yesterday, to offer any real hope for teachers that Scottish Government was minded to respond positively to the current pay claim.
He set out next year's public sector pay policy in exactly the same terms as the failed policy of this year i.e. 3% for those earning up to £36,500 and 2% for those above that (with a cap on earners over £80,000).
Given that teachers have overwhelmingly rejected that offer this year, as have other local government workers, the notion that it would be acceptable going forward, especially in terms of a multi-year deal, is entirely fanciful. It seems that the Scottish Government is determined to push teachers towards strike action.
We want a negotiated settlement, however, and strike action would be a last resort.
An Extended Joint Chairs (negotiating forum) is set for Monday 17th – it really is the last chance saloon for both the Scottish Government and COSLA to demonstrate that they have been paying attention!
A further update will be issued after Monday's meeting.

Are your contact details up to date?
It is crucially important that the information we have on our members is up to date for any further ballots which may be held in the course of the campaign. Ensuring we have your current home address is particularly important.
Any statutory ballot will be a postal vote only and will not be undertaken electronically. Accordingly, members are requested to check their details to ensure that the home address we have is current, and that details of their school and email address are also up to date.
Value Education Value Teachers Questionnaire
This is the final week to take part in the Value Education, Value Teachers survey.
If you have not already done so, it would be greatly appreciated if you could respond before the survey closes on Monday 17 December.
FELA Statutory Ballot for a Fair Cost of Living Pay Rise
As FELA members are aware, there is a statutory ballot open at the moment regarding the FELA campaign for a fair cost of living pay rise.
Given (anti) trade union laws, it is important for every member to post their ballot paper by next Monday (17th December) in order for it to count.
Talk to your colleagues and encourage them to vote too. The FELA Executive urges members to vote YES in order to protect the value of your pay and to maintain our negotiating strength at the NJNC.
Post your ballot paper today!
ULA HE Pay Campaign
As ULA members are aware, the ULA Executive has permission to hold a statutory ballot for strike action in pursuit of the 2018-19 pay claim.
This work has been coordinated with other HE unions and we will be writing again to ULA members on this campaign shortly.
Council Elections 2019/20
The EIS Council is the principal executive committee of the EIS. It meets around five times a year, usually in Edinburgh, and at the AGM.
Nomination forms for members interested in standing for election to Council for 2019/20 are available from your Local Association Secretary, Branch Secretary or can be downloaded from the EIS website.
EIS Organisers
With three major campaigns in full swing within schools, colleges and universities members may have many questions. The EIS Organisers are available to visit and support you in your schools and branches. If you would like to arrange a time for your Organiser to visit, please contact them via EIS HQ.
EIS Financial Services
We are delighted to announce the winners of the EISFS October and November Free Insurance competitions:
-Diane Stockdale (Home Winner - October)
-Graeme Campbell (Car Winner - October)
-Jane Palencarova (Car Winner - November)
-Matthew Woolson (Home Winner – November)
All winners have received a cheque for the full value of their annual insurance policy just in time for Christmas!
Copyright © 2018 EIS All rights reserved. If you do not wish to receive further e-bulletins please email membership@eis.org.uk with the title unsubscribe e-bulletin