Having trouble viewing the email below? Click here

| | |
| --- | --- |
| | February 2019 |
Value Education Value Teachers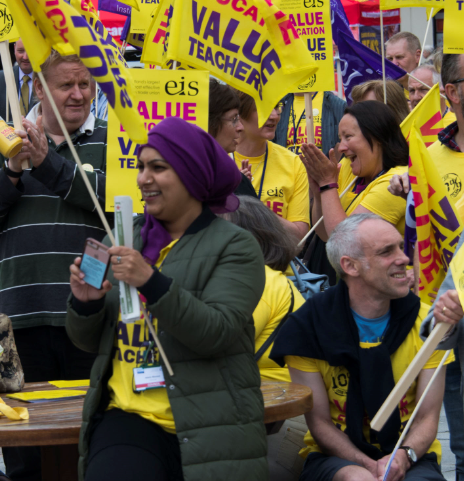 The EIS is campaigning to secure a substantial pay increase for Scotland's teachers.
Changes to pensions and National Insurance, combined with sub-inflation pay settlements, have led to cuts of around 24% in teachers' take-home pay since 2009. Improving pay will also help alleviate the issues surrounding teacher recruitment and retention in Scotland.
EIS Members have voted to reject the latest pay offer from Scotland's local authorities and the Scottish Government, and to move to a statutory ballot for industrial action.
The ballot closed at 5pm on Thursday 21st February 2019. Turnout in the ballot was 81% with 57% voting to reject the offer and 43% voting for acceptance.
The statutory ballot for industrial action is scheduled to open on Monday 11th March, and will run for three and a half weeks. EIS Executive also agreed a date for the first potential day of strike action – Wednesday 24th April.
More information about the Value Education Value Teachers campaign can be found on our website.
Advice for student teachers about possible industrial action in schools
We realise that many student teachers will be completing placements in schools over the next few months and that there are concerns about how placements may be affected by potential industrial action.
As students are not council employees paid on the SNCT scale then they cannot be balloted or called out on strike. We expect schools to be closed on strike days and we would expect students to respect their future profession's strike action and act in solidarity with striking teachers. We do not expect any industrial action to have any detrimental effect on students.
Students should find out from their own universities, whom they should contact if they wish to discuss the impact of the industrial action on placements.
Student Event Sponsorship
Funding is available through the EIS for student teacher events taking place across all the Scottish Universities. We would welcome hearing from student groups and societies. Contact your relevant Organiser to discuss how to apply.
National Union of Students Annual Conference at Dunblane Hydro
The EIS will be attending the NUS Scotland Annual Conference 2019 on Thursday 21th March at Dunblane Hydro.
Come and say hello to Organiser, Eilidh Porrelli who will be staffing an EIS stall and can answer questions and offer advice on placement, contractual obligations and anything else relating to the student teacher experience.
What to Expect on Placement
The EIS has produced some advice and guidance for students embarking on placements this year. This can be found in the Student section of the EIS website.
Anti-Racism resources for the classroom
Race is a protected characteristic under the Equality Act 2010. This is defined in law as including colour, nationality (including citizenship), and ethnic or national origins.
Black and Minority Ethnic (BME) people in particular can experience racism in many forms, and teachers have a key role to play in challenging racism in all educational settings. BME teachers also need to be protected from experiencing racism in the workplace.
Find updates on our latest projects and policies to promote race equality and challenge racism as well as resources that can be used in the classroom on our website.
Independent Review of Student Support
The EIS believes that equal access to education should be a right for all, and that the ability to access further or higher education must always be based on the ability and willingness to learn and not on the capacity to pay.
While Scotland has taken significant steps to widen access to tertiary education in recent years, it is clear that much more still needs to be done to ensure that young people and potential adult learners are not debarred from accessing courses for financial reasons.
Bold steps should be taken to ensure that student support is enhanced to promote equity of opportunity for all learners.
The EIS believes that a return to a system of student grants and the removal of the prospect of debt from student loans would both widen access to education and provide a knock-on boost to Scotland's economy.
EIS/SUL Professional Learning courses
The following courses are planned for the coming months. If you are interested in attending any of these courses, please contact the Education Department at EIS HQ.
Developing Awareness of Young People's Mental Health Needs:
Galashiels, Borders, Dundee and Lerwick, Shetland
Additional Support for Learning Twilight:
Inverness
Building Teacher Leadership:
Galashiels, Borders and Edinburgh
Professional Learning Conference
Save the Date: Saturday 11 May 2019
This half-day conference, taking place in Edinburgh, will focus on Additional Support Needs.
More information will be added to the EIS website as it becomes available.
Copyright © 2018 EIS All rights reserved. If you do not wish to receive further e-bulletins please email membership@eis.org.uk with the title unsubscribe e-bulletin