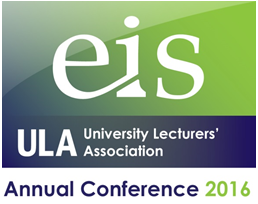 The EIS-University Lecturers' Association held its AGM at EIS Headquarters on 4th May 2016. Members from HE institutions across Scotland were in attendance to debate and vote on EIS-ULA policy priorities for the year ahead.
The AGM was chaired by ULA President Vaughan Ellis and was addressed by EIS President Pat Flanagan.
The AGM debated and passed a wide range of Motions which are detailed below. The meeting featured a presentation from EIS National Officer for Further and Higher Education, David Belsey, on Prevent Duty.
The Branch Secretary for Edinburgh University, Stephen Hunter, was presented with a new ULA banner designed by artist Nikkita Morgan, and the AGM concluded following the formal vote of thanks to all who attended by EIS-ULA President Vaughan Ellis.
Motions
Resolutions
That this Conference resolves to work towards reaching academic objectives at New JNCHES and other fora through closer working with other trade unions such as the UCU.
Carried
That this Conference resolves that greater efforts should be made to support Branches, Branch Officials and a recruitment campaign.
Carried
That this Conference resolves to support Scottish pay bargaining. Conference also notes that arrangements for Scottish pay bargaining should cover all Scottish HEIs, including SRUC.
Carried
That this Conference resolves to support the Government's agenda for improving Higher Education Governance.
Carried
That this Conference resolves to oppose any introduction of the Teaching Excellence Framework (TEF) to Scotland.
Carried
That this Conference resolves to campaign for an increase in HE funding.
Carried

That this EIS Annual Conference notes that existing university academic staff Activity Planning mechanisms have been negotiated and agreed with staff representatives as dictated by HE2000 agreement.

This conference further notes that no new system can be imposed unilaterally. Conference resolves to resist any attempts by senior or schools' managements to misinterpret and misapply existing Activity Planning guidelines in order to undermine the process.

Carried
That this EIS Annual Conference condemns the intention of the University of the West of Scotland to significantly diminish its commitment to its local communities by seeking to remove offers to fees-only students, and the potential resulting loss of higher educational opportunities to many thousands of Scottish young people.
Carried
That this EIS Annual Conference resolves that all academic staff should be placed on an extended single pay spine.
Carried

That this Conference notes:

The extension of the "Prevent" strategy to Higher Education with the Counter Terrorism and Security Act 2015
The requirement of all Universities to establish Local Prevent Implementation Committees
The creation of specific Prevent Awareness training for all staff in Higher Education

This Conference believes:

The Prevent Strategy equates "extremism" almost completely with Islam, this will encourage Islamophobia and racism on campuses.
The Prevent Strategy encourages lecturers to spy on their students and will inhibit academic discussion – this is totally inappropriate for Universities.

Conference resolves:

To prepare information packs on Prevent to send to all local branches
That no EIS/ULA member should participate on local Prevent Implementation Committees
To communicate directly with the Scottish Government and ask it to make clear its position on Prevent
Campaign with other campus unions and students to oppose Prevent being implemented at Higher Education Institutions
Explore the possibility of calling for a boycott of Prevent Training by EIS/ULA members

Carried

This Conference welcomes:

The formation of Scotland's tertiary land based institution, SRUC, in 2012
The way that Holyrood committees are taking an interest in the running and continued existence of academic institutions.

This conference regrets to note the uncertainty for the future of SRUC caused

In particular by:

The discontinued merger talks with Edinburgh University
The lack of clarity and timescales in relation to SRUC's future at the Craibstone, Elmwood and Barony campuses.
Notes the ultimate responsibility of the SRUC board.

Conference calls for:

A full and proper commitment and vision for the future of SRUC at all of the campuses with all of their functions
Continued support for SRUC staff in campaigning for the future of the institution, jobs and all the functions currently conducted by SRUC
EIS to lobby Holyrood committees to widen their interests and regularly scrutinise other publicly funded Scottish institutions where research and teaching occur, specifically other main research providers such as the James Hutton Institute, Moredun Institute and Rowett Institute.
EIS to press Scottish Parliament to ensure that SRUC honours its commitments to maintaining all 6 campuses - not allowing locations to wither and die through inaction.

Carried
Photos: