What is the network?
The EIS is uniquely able to represent all professionals in the field of education. As an educational psychologist you should choose the organisation best able to look after your employment and professional interests.
The EIS National Network for Educational Psychologists allows representatives of educational psychologists in each local association to meet to discuss relevant issues and to provide advice to EIS Committees and negotiators.
The Association of Educational Psychologists is not represented on SNCT and LNCTs and is not a recognised union to negotiate pay and conditions of service. The views of the Network are passed to EIS negotiators on the SNCT.
What does the network do?
The Network was established by the EIS to allow Educational Psychologists from all over Scotland to share experiences, discuss common difficulties and to advise the national body.
At present, the Network has representatives from 18 local associations, attending meetings in Moray Place three times per year. The meetings are always lively and a broad range of opinions are shared and debated on many topics including regulation, training and workforce planning.
In a climate of budget cuts, the Network is an invaluable tool to influence those who negotiate with government on training and workforce planning.
All EIS members who are Educational Psychologists should make contact with their own local Network representative. A list of current reps along with their e-mail address is available on this page. If you have no local representative please think about becoming involved.
If you have something you would like to raised at a meeting please advise your local Network representative who can bring this forward.
Workload Campaign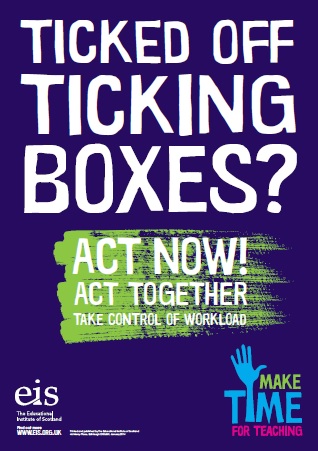 The EIS campaign on workload must encompass all member, at each workplace and covering all employment groups covered by the SNCT. Budget cuts impact on all areas of work impacting directly on staffing and resources and indirectly through the impact brings to the communities we serve. The EIS is encouraging all members to tap into this campaign. A healthy work life balance is not only good for you and your family life: in the longer term it will be good for the services you deliver. Details of the EIS Workload Campaign can be found here.