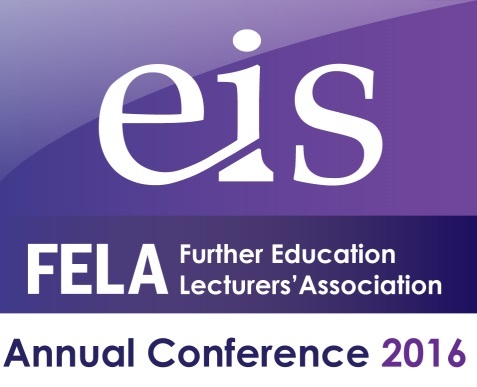 The EIS-FELA AGM was held in Perth in March. Delegates from colleges across Scotland debated a range of Motions on issues such as National Bargaining, funding for FE, fair pay, equality and fighting course cuts.
Speakers at the AGM included EIS-FELA President John Kelly, EIS President Pat Flanagan, General Secretary Larry Flanagan and Helen Martin, STUC Assistant Secretary.
National Issues
Motions
Resolutions
That this EIS-FELA Annual Conference Instructs the EIS-FELA National Executive to lobby the Scottish Government to put in place funding to ensure that National Bargaining in the FE sector takes place so all lecturers across Scotland are treated equitably.
Carried.
That this EIS-FELA Annual Conference calls on the EIS to continue to organise and fund a national campaign to seek improved funding for FE, to include as a matter of urgency, a lobby of Holyrood and a national demonstration.
Carried.

This EIS-FELA Annual conference condemns the reported £2.4 million in payouts to 14 college principals under the college merger scheme. This conference agrees with the convenor of the Scottish Parliament Public Audit Committee when he said of one former Principal's payout 'behind the payout lies an appalling abuse of public money'.

This conference calls on branches to highlight this issue when lobbying political representatives in our campaign for equal pay for lecturers.

Carried.
Salaries and Conditions of Service
Motions
Resolutions

That this EIS-FELA Annual Conference reaffirms the long-standing EIS-FELA National Policy relating to all those carrying out lecturer duties within FE being remunerated as lecturers, to protect diminution of lecturer terms and conditions.

This conference reminds Branch Negotiators the clear distinction between support staff and academic staff, with guidance provided within National Policy.

No one employed in a Learner Support post will be placed in sole charge of students (individual/group/class) other than in agreed exceptional circumstances such as transporting or personal care duties.

Furthermore, this EIS-FELA Annual Conference resolves to fully pursue Lecturer terms and conditions, at local and national level, for any duties related to Student Learning & Development inside or outside of a classroom.

In instances of said National Policy being contravened, staff performing any duties related to Student Learning & Development will be considered a Lecturer irrespective of job title and EIS-FELA membership may be conferred upon said educational personnel.

Carried.

That this EIS-FELA Annual Conference reaffirms the long-standing EIS-FELA policy of opposition to any involvement in job evaluation, appraisal, lecturer rating or similar schemes at either National or Local level, and notes that appraisal systems can be used to legitimatise redundancy selection.

This conference therefore instructs EIS-FELA branch secretaries to seek immediate assistance if any attempt is made to introduce an appraisal system in their college.

Conference also instructs EIS branch officials to lodge an immediate collective grievance on behalf of a branch should any member be subject to investigation or disciplinary action as a result of supporting this position.

Carried.

That this EIS-FELA Annual conference calls on the EIS to organise a Freedom of Information request for all Scottish FE colleges to disclose:

How many disciplinary processes (including investigation hearings) have been initiated year by year for the last three years of its lecturing staff (including all staff entitled to EIS membership at the college)
How many of these disciplinary hearings have resulted in suspensions, how many have been upheld by the colleges and how many have resulted in dismissals
How many dismissals have been because of 'quality' procedures
How many dismissals have been because of sickness absence.

Carried.
That this EIS-FELA Annual Conference calls upon EIS to provide for online legal advice via Branch Official accessible discussion boards/legal advice service along with direct timeous solicitor support for individual cases and/or branch issues.
Carried.

Education and Equalities
Motions
Resolutions

That this EIS-FELA Annual Conference notes the importance of using subject specialists to teach subjects in FE colleges and opposes the use of staff to teach subjects where they have no adequate qualifications, training or current practice (where relevant).

FELA Branches are urged to seek agreement to ensure lecturing staff are used appropriately.

Carried.

That this EIS-FELA Annual Conference resolves to challenge college management and to raise awareness by all means possible including media/press releases at Local and National level, against any reduction in course delivery that may have a detrimental effect to local campus catchment area servicing.

This conference calls upon Branch Officials to request college management to maintain or attempt to improve upon levels of localised FE/HE provision.

Carried.

That this EIS-FELA Annual conference notes that blended learning may be used as a means of cutting costs rather than as an aid to education.

This conference therefore resolves to advise branches that where an expansion of blended learning is proposed, EIS will seek to ensure:

That it has a secure educational rationale and is not being used as a cheap substitute for face-to-face provision, and where it is the latter, the introduction of blended learning is opposed
That the EIS-FELA advice document is used to inform the EIS approach
That workload, training, health and safety, intellectual property rights, choice of systems used are all negotiated between the union and management.

Carried.

That this EIS-FELA Annual Conference calls on the EIS to provide a guidance strategy for members in response to the UK Government's Prevent Strategy.

Members may be asked to identify and report 'signs of radicalisation' as part of the College's Safeguarding Policies. Members need to have clear guidelines from EIS-FELA as to their rights and responsibilities in this area, and be supported with training which is appropriate to their role.

Carried.

This EIS-FELA Annual Conference affirms its opposition to Islamaphobia and calls for a campaign of resistance in the EIS-FELA branches against attempts to make training in prevent strategies mandatory for all FE lecturers.

This conference calls for a campaign against the threats to freedom of speech in FE colleges by the UK and Scottish Government guidance definition of extremism, which includes 'vocal or active opposition to fundamental British values' because of the broad range of individuals and groups who may at some point fall foul of it.

Carried.
That this EIS-FELA Annual conference supports the annual international demonstration against racism called for 19 March 2016 in Glasgow, and calls on the EIS to encourage members to attend, and to assist with transport costs.
Carried.
Miscellaneous
Motions
Resolutions

That this EIS-FELA Annual Conference notes that several EIS-FELA activists have been targeted by managements for their union roles and resolves that:

If an EIS-FELA member is threatened with disciplinary action, suspension, dismissal or some other detriment which they believe is due to their role as a trade unionist, the first person to contact is normally the EIS representative or Branch Secretary, and thereafter the EIS Area Office and EIS-FELA nationally.

The individual/s concerned can request that this matter is treated EITHER as a trade union issue OR as an individual case (using the standard case-handling protocol).

If the matter is treated as a trade union issue then it should be dealt with utmost urgency. The bodies from whom the individual/s may request assistance include:

If in the event of a difference of opinion arising between any of these bodies, the normal arrangements for resolving differences within the EIS between its various constituent bodies shall apply.

Carried.

That this EIS-FELA Annual Conference resolves that EIS FELA membership should be divided into membership classifications depending on the position they hold and that members should only be allowed to vote on areas directly affecting them.

Members not covered by the RPA should not have a vote on salary or conditions that have no direct impact on them, as this can dilute the wishes of the members during any disputes.

Carried.

That this EIS-FELA Annual Conference notes with concern recent developments in the Glasgow region, specifically the existing and proposed transfer of curriculum from Glasgow Kelvin to City of Glasgow and Glasgow Clyde Colleges.

Conference resolves to write to the Scottish Funding Council, the Scottish Government and the Glasgow Colleges' Regional Board to request meetings to discuss our concerns regarding:

The financial viability of Glasgow Kelvin College
The impact of Glasgow Curriculum and Estates Review on widening access and participation, and the failure to provide an educational rationale for this review
Future funding of the City of Glasgow new-build and the impact of this on staff and learners throughout the FE sector in Glasgow
Curriculum change in Glasgow

Carried.
Photos: