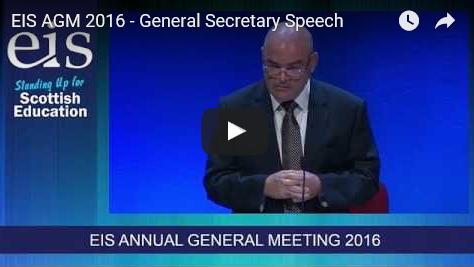 View video of General Secretary's Address
Good afternoon, colleagues. I'm very pleased to present this, my 5th report to AGM – the first being a few months after I started as General Secretary in 2012 – last time we were in Dundee.
In that first report I highlighted the importance of the EIS re-engaging our membership, of building activism within the union, of not being afraid to utilise our collective strength as an effective Trade Union.
I also asserted the importance of asserting our professional voice as practitioners, indeed as experts in Education, and as the single largest cohort of individuals whose daily actions make a difference in the lives and learning of children and students.
I want to return to some of those themes today because I believe their relevance to the Institute's role in Scottish education is, if anything, even greater now than before.
There has been a very proper focus recently on Education as part of the Scottish election – politicians practically falling over each other to say how important education is to Scotland's future and in most cases how more finance and resource needs to be spent on and provided for Education.
We welcome that focus – Scotland's teachers and Scotland's schools have nothing to fear from scrutiny; day in and day out our members deliver for Scotland's pupils and students.
I did remark that sometimes when politicians debate Education more heat is generated than light; not meaning to be too disrespectful in that comment but politics in Scotland, as elsewhere, is often a brutal, adversarial arena where scoring party political points seems to be more important than addressing the real issues.
In our practice we try to instil in our children an understanding that cooperation and collaboration is a more effective problem-solving strategy than naked competiveness and aggression – a lesson that politicians might care to learn, also.
It is not only about how they work together but also how they work with us, the profession, because ultimately it is teachers, and the actions of teachers, which make the difference.
There appears to be a near universal ambition, for example, around addressing the impact of poverty on educational achievement.
I'm going to suggest that we start to use that formulation rather than "closing the attainment gap" which might suggest that it's all about what schools do when in reality, as the president referred to yesterday, it's even more about the existence of poverty, child poverty, in 21st century Scotland.
This year's SSLN provided further evidence as to how increased levels of childhood poverty can be traced through to lower attainment amongst children from the most deprived backgrounds.
A 1% drop in numeracy attainment, at some levels, identified in this year's SSLN almost wholly located in the 30% pupils from the most deprived backgrounds. The single biggest collective variable in those children's lives– increased poverty because of Osborne's benefit cuts.
Austerity has its victims – deepening levels of child poverty create even higher hurdles.
Poverty is not destiny, however, a phrase used by the OECD. Schools can and do make a difference.
Within the 30% of pupils from the most deprived backgrounds there are pupils performing well or better – so the task is to interrogate the raw data to see what it is that makes the difference. Is it linked for example to the 1/3rd of pupils who when they are stuck with a numeracy issue ask at home for help – what about those who can't do that?
As a teacher – these are the questions you ask yourself.
I'm elaborating this point a little colleagues, to demonstrate to outside this room, how teachers look beyond raw data and contextualise assessment results with their intimate knowledge of the children they work with; their home circumstance, their level of parental support etc.
Statistics are anonymous – our pupils have names.
Teachers use assessment data to inform teaching and learning, to focus on the child. The prime purpose of assessment, in all its forms, should be to support learning.
So we now have the government's much heralded NIF which will pull together statistics and data from across Scottish Education.
I need to dismiss the myth that there has been no data in Scottish Education. The Tackling Bureaucracy Report highlighted online tracking and monitoring as excessive. Scottish education is awash with data.
The important difference with NIF, as it shifts the locus of most of the data towards Scottish Government, is the significant leverage around Education performance which previously sat with local authorities – this new dynamic should be considered.
There is nothing inherently wrong with the NIF - the litmus test will be what actions flow from analysis of the data. It is potentially positive if it leads to increased investment; but potentially negative if it narrows the focus to an obsession with targets. This is a huge temptation. But we have a message for the Scottish Government regarding this. We have been there before and we are not going back again.
Data rich education systems are fine but data driven systems are not.
NIF development has been part of the speculation about the future relationship between the Scottish Government and COSLA.
The SNP manifesto talked about regionalisation and this was seized on by some as a structural change. The truth is not a firmed up proposal as yet. It is fairly clear that the last thing Scottish Education needs at the present time is reorganisation. This would be a huge distraction and frankly a waste of resources and I caution the new Cab Sec against such a move.
We don't need a political side show when we have major issues to address. That is not to say that there shouldn't be some consideration of how schools are supported.
In terms of local authorities the EIS has long held the view that local accountability is important and local authorities help fulfil that function. Forged largely in the 1980s when councils were the front line against Thatcherism. There hasn't really been a great deal of rethinking on that issue since devolution.
Initially Scottish Executive largely ring fenced education spending. The SNP led Government introduced Concordat – which COSLA embraced - but of course that was pre austerity. They now find themselves with little financial capacity, which of course limits their ability to act.
Much of the tension between the Scottish Government and Local Authorities is largely budgetary driven. and I think we are entitled to ask the question, 'Where is the added value from council control?' – and I think we deserve an answer to that question.
It is regrettable that COSLA's main education platform over the past period has been its desire to cut teacher numbers. Protecting teacher numbers is an example of the Scottish Government directing Education spending in a way we were totally supportive of.
Notwithstanding some of our concerns around COSLA, the EIS view, I think, is that it would be essential that Councils remain as the employers, that the SNCT and LNCTs remain as the negotiating frameworks. They have lost those frameworks in England and we don't want to follow suit.
That is not to say that there isn't space for looking at the dynamics of how schools are supported effectively. Additional funding direct to schools would be welcome. In fact we advocated it at various points during the development of CfE and it if it helps ring fence education spending that is a bonus.
There is a balance to be struck, however; our Headteacher members are already overworked and taking on new bursar duties would only worsen the position. Too many schools are not sufficiently collegiate in practice to ensure that school communities control additional spending rather than individuals. The idea is not without merit, however.
Some of the discussion about regionalisation has come from a reference in the OECD report to what is termed the "middle way" theory developed by Professors Andy Hargreaves and Denis Shirley, two of the most prominent Educationalists internationally.
Read their work, it's not about organisational jurisdictions. In fact it attacks the concept of hierarchies in terms of educational "control" and focusses positively upon facilitating pedagogical discourse between practitioners, free from top down management approaches.
Regionalisation shouldn't be about organisational change, it should about enabling teacher dialogue/networking/collaboration.
During the London Challenge, a key issue was the collaboration between schools. Schools issued the additional funding to buy in cover to support networks across subject areas, LA boundaries – in conjunction with Universities and academics to talk about teaching.
All the research shows that professional dialogue and collaboration are what makes the biggest impact in terms of teaching practice. We have barely scratched the surface of it here in Scotland because it requires time. Time is a precious resource. In the primary sector in particular teachers can barely get out of school because of supply shortages.
It's an approach we would favour, I think, because it's about enabling teachers to talk to each other about classroom practice and that's what makes a difference in terms of teaching and learning. I urge the Deputy First Minister and the Scottish Government to look at how this agenda is taken forward and builds on the collaborative tradition of Scottish education.
The counter to that tradition is now posed quite sharply, I believe, by the agenda being pursued by the new opposition, the tory party.
No matter how it tempered publically, Scottish Conservative education policy is founded on the same approach as the UK Tory policy and it should be roundly rejected as it is anathema to the type of comprehensive, public sector, societal good approach we have embraced in Scotland. The Scottish Government would be well advised to adopt a similar approach.
It is informative to note some comments from a fellow called Toby Young, CEO of a large number of free schools in England and one of the right wing champions UK education policy, who resigned last week as CEO of a chain of free schools. The Mirror headline was "Toby Young admits 'running a school was harder than I thought' in extraordinary free schools climb-down".
Amongst his regrets he was sorry that he had been dismissive about teacher workload and says he has a new-found respect for the profession. "I now realise that teaching is incredibly hard work and not something I could do myself," he says, adding: "We do expect them to do far too much." No brown stuff – Sherlock! Those who can teach!
So in a school session where we celebrated 50 years of comprehensive education, it would be ironic if siren voices stage right led to a reverse of our understanding of education as a societal good.
The downside of Education becoming more politically centre stage is that much of the media comment is now led by the Newsdesk rather than specialist Education correspondents who have taken some time to understand the nuance of issues rather than the jump for headline. Some of them are like pupils circling in the playground shouting "Fight! Fight! Fight!"
I was surprised to read such a piece by Magnus Linklater in The Times. In the piece he outlines, quite accurately in my view, the role of the EIS in challenging Tory dogma in the 80's. He claims that because of the EIS, Scotland's comprehensive education system has been left more or less intact. I think he meant that as a criticism. He basically called for John Swinney to embrace change, apparently for the sake of change. He concludes by urging the Deputy First Minister to pursue the tory agenda as seen in England, without critique or evidence and to "take on the unions."
Pat made reference to the GERM project – most enthusiastically embraced by the USA, Sweden and England. It is based on 4 key premises: as described by Pasi Sahlberg, the GERM has emphasized markets, accountability, testing, and privatisation in educational change.
Earlier this year I had a chance to hear Professor Dennis Shirley, Boston University. He put up slides of PISA progress comparing England, Sweden and the USA with the host country Germany. What they revealed was that in each of those countries there has been a steady decline in PISA scores across literacy, numeracy and science. In other words, despite the rhetoric, the GERM approach was failing.
By way of contrast, Germany, which had been shocked by its initial low scores was showing steady improvements and had crossed over on the way up the GERM countries on the way down. What was the German's improvement programme based on?
As Professor Shirley explained - Germans chose not to compromise democratic governance of their public schools and their authorities. There has been no frontal assault on public education the way that there has been in England, Sweden, and the US. Nor had Germans severed the ties between universities and schools. German teacher education programs universally require a full two years of teaching internship, longer than anywhere else in the world.
In the wake of the first poor PISA showing, the German government responded by investing millions of new euros into teachers' professional development. Why would you want to emulate systems doing less well than you when the evidence is clear?
Incidentally, if you were to look at Scotland's figures over the same period – contrary to the narrative of despair in Scotland, whilst still having issues to face, it is doing manifestly better than the GERM countries.
I don't actually believe there is any real interest on the part of the Scottish Government to pursue such an agenda; turning its back on the last 9 years when it has been in charge of Scottish Education. Our message for the Scottish Government is to invest in the profession.
Of particular interest to us are the references to enhancing professionalism; exploring partnerships – needs to be facilitated in a meaningful way.
Professional Learning is an important agenda for us: our Learning Rep network is second to none. In terms of numbers, in the period I have been General Secretary around 6,000 members have attended events.
Since the last AGM we have held 15 events which around 1,000 members have attended. The feedback has been overwhelmingly positive. I think our CPD programme should be expanded; including creating support for practitioner research.
I don't think I need to rehearse too much where we are with the ballot. In August 2014 the first reflections report identified the need to identify and remove the duplication in unit and external assessment – nearly two years later we are still waiting. The SQA says it can't move any quicker – the truth is, Yes, it can.

Do they need a crisis to take the matter seriously?
Education Scotland is equally to blame. I highlight the recent letter with unambiguous advice – BGE sacrosanct but you can draw down units? Confused and confusing. Hermitage – support package – drew laughter; it wasn't meant as a joke but maybe tells all we need to know about mood in schools.
The Deputy First Minister has made clear his intent to address the issue – we welcome the tone of his comments but it needs more action. Announcing the publication of a report which was already 7 weeks late and which we had rejected as inadequate is not the reassurance we are looking for.
The Scottish Government has a veritable machine at its disposal in terms of the Learning Directorate – civil service; not educationalists that does give me cause for concern.
The Deputy First Minister is in listening mode and I am pleased he will be here tomorrow. I think our message is simple: that he should work with us to get it right.
Colleagues I would like to move towards a close with some more practical matters. The refurbishment of Moray Place is now just about complete. Not only is this providing those who work there with a good environment but we have now built into the offices a training suite to support the CPD and Training programmes we have introduced.
We've run the first set of our new Rep training courses, developed with TUC Learning, across the country with some success.
I pay tribute as ever to the work of our school and workplace Reps. They are the absolute backbone of the Institute and we owe them all a vote of thanks.
We continue to build capacity around our organising model with a further two organisers starting in the new session with the aim at growing activism and engagement with the union.
I announced last year that we had over 50 first time delegates to AGM. I hope some of them came back, but we again have over 55 first time delegates. You are very welcome and I hope you enjoy the AGM.
I offer a personal invitation to meet with myself and senior officials at the lunch-time fringe event (open to anyone but first time delegates are particularly welcome) - other fringes are available.
Again I reported last year that of the 135 Council members who appointed me as General Secretary only 54 were still on Council. This year that figure is actually 56 so well done to the two old-timers on getting re-elected; democracy can be a bizarre process!
Also, I am pleased to announce that from April to April last year we saw a net membership growth of just under 600, which at a time of growing teacher shortages and cuts in FE is a significant achievement.
On a more sombre note, I think it is important to note that this year has marked the 20th anniversary of the Dunblane massacre. An event which shook all of us involved in Education at the time. The Gwen Mayor Trust, which we set up in honour of our member who died that day along with the 16 children has been a fitting memorial, I believe, to Gwen; over £100,000 has been allocated to Primary school projects to bring a little bit extra into the classrooms.
At the Education International Conference I was asked by the NUT to second its motion calling for support for those teachers who worked in conflict zones and dangerous environments around the world and who often paid with their lives for their devotion to education.
I spoke about Dunblane which for us has thankfully been a single criminal act but I also asked the question as to what motivated teachers and indeed pupils to attend school when danger and even death were such real possibilities – the only answer I could think of was that Education represented the only real hope of a better future that they were willing to take the risk.
As Nelson Mandela said "Education is the most powerful tool with which to change the world. I renew our commitment to that aim, fitting tribute to Gwen Mayor.
Finally colleagues I want you to look at this picture. I was at the Bruce Springsteen concert in Glasgow last week and I took this picture of the crowd. You might be wondering why I'm showing it to you; maybe even fearful that I am going to burst into song – you're safe. Nobody will be strapping their hand across my engine.
The reason is that I wanted to show you what 55,000 standing together looks like. Bruce sang Lulu's Shout (local song) – it was loud. But actually if all 55,000 EIS members stood together we wouldn't have to shout, a loud stage whisper should get us heard.
Trade Unionism is about collective voice and collective action. The EIS is about collective voice and collective action. Let's put that into practice over the next year. Let's start with a massive Yes vote in the NQ workload ballot.