College lecturers across Scotland are taking part in a fourth day of strike action as part of a long-running pay dispute.
Lecturers across Scotland have displayed continuing strong support for the strike action, with students in many parts of the country also turning out to show their support for a fair pay deal for lecturers.
Lecturer members of the EIS-FELA are campaigning for a fair cost of living increase, in line with current public sector pay policy.
The employers' association, Colleges Scotland, has offered only 2% (consolidated) over a 3-year period, while also seeking to tear-up commitments on lecturers' working conditions.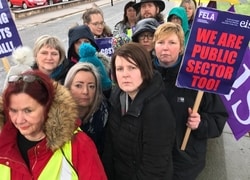 Commenting, EIS-FELA President Pam Currie said, "We are taking this strike action in the face of an intransigent management side who have rejected our attempts to reach a negotiated settlement on pay, including numerous offers to suspend industrial action and thus minimise disruption to learners."
"Our request is simple and reasonable - a cost of living pay rise in line with public sector pay policy."
Ms Currie continued, "We do not believe that Colleges Scotland are negotiating in good faith. They have not demonstrated the capacity or willingness to reach a negotiated settlement, and instead have issued public statements designed to fan the flames."
Ms Currie added, "At branches around the country and at our national AGM in Perth last week, lecturers have spoken – we have no confidence in Colleges Scotland as the self-proclaimed 'voice of the sector' and we are clear that the Scottish Government must now intervene to facilitate a negotiated agreement to resolve this dispute."