The EIS has again raised serious concerns over the proposed merger of Shetland College, Train Shetland and the NAFC Marine Centre.
The EIS has particular concerns over suggestions that the proposed newly merged institution would be a private company limited by guarantee. This would be the first time in Scotland that a college has been transferred from public ownership and control into a private company.
The EIS has previously written to John Swinney, Deputy First Minister and Cabinet Secretary for Education and to the Scottish Funding Council for Further and Higher Education (SFC) to raise its concerns. The EIS has also written to all Shetland Island councillors to advise them of the serious concerns of lecturing staff.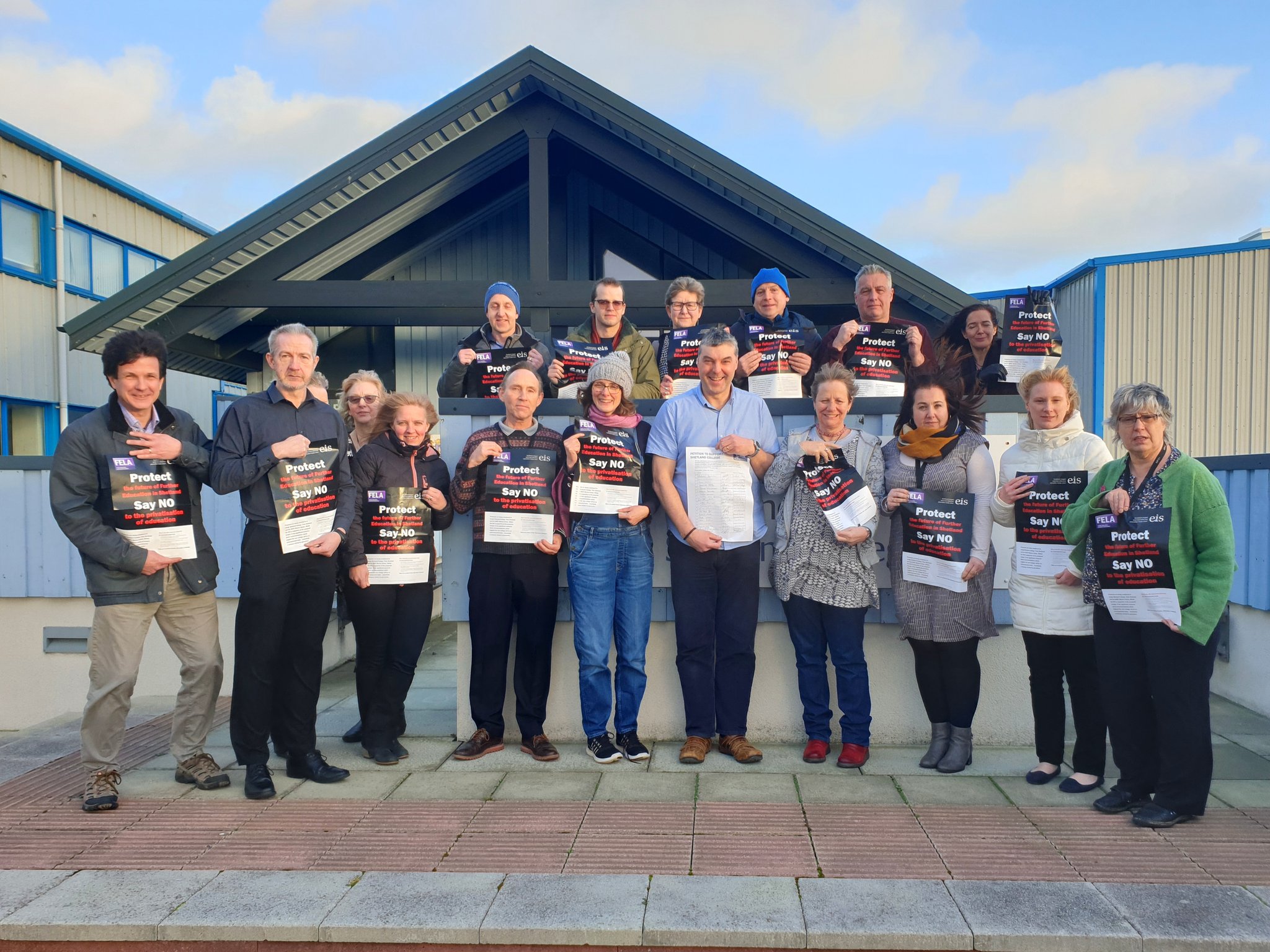 Today. lecturers from Shetland College took to the streets and met outside the Town Hall in Lerwick in a bid to engage local councillors in the debate. At the same time (1230hrs), members of EIS-FELA's National Executive gathered at the Scottish Funding Council to make its voice heard.
Petitions, with around 800 signatures, opposing the plans to privatise Further Education in the Highlands, were to be presented to councillors and officials of the national funding body.
Commenting, EIS General Secretary Larry Flanagan said, "Whilst the EIS is not opposed to the merger in principle, we are opposed to privatisation of our public education, whether it is for profit or for building up reserves of cash."
"EIS-FELA members are calling on Shetland Island Council to ensure that publicly funded education is kept in public hands, looking beyond current economic circumstances to provide long-term quality education and stability for students."
"The diversity of the curriculum and opportunities on offer to students should not be determined by financial considerations, but by educational merit."
Mr Flanagan added, "The EIS, through this action today, is continuing to raise our concerns related to this merger, and we continue to seek resolution to those concerns. The main source of funding for the new merged college in Shetland will come from public monies."
"With that level of public funding Shetland college, students and staff deserve the security of knowing their education and jobs are protected and that tax payers' money is being effectively invested in the current and future educational needs of the people of Shetland."