Teachers and lecturers from across Scotland will quiz representatives of Scotland's five main political parties this evening on key education issues in a special election hustings arranged by Scotland's largest teaching union, the Educational Institute of Scotland (EIS).
The online event will feature a question and answer session with representatives of the Scottish Conservatives, the Scottish Greens, Scottish Labour, the Scottish Liberal Democrats, and the Scottish National Party.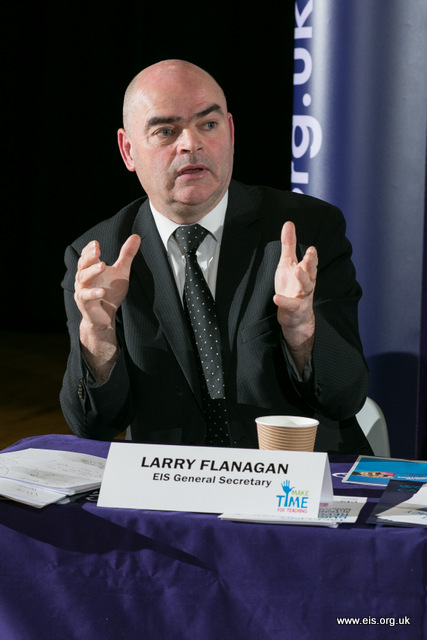 Commenting, EIS General Secretary Larry Flanagan said, "Education is a key area of devolved responsibility for the Scottish Parliament, and Scotland's politicians have spoken at great length during the pandemic of the importance of education to the national recovery process.
Tonight's event will offer EIS members from across Scotland the opportunity to probe representatives of the country's five main political parties on their plans for supporting education in the years ahead. It is sure to be an interesting and informative evening."
The EIS published its own Manifesto for Education ahead of the Scottish Parliament election, highlighting the need to properly support education throughout the recovery and beyond.
In calling for an education led recovery from the impact of the pandemic, the EIS demands from all political parties, commitments to concrete policies and the necessary investment which will restore and build upon the solid foundations of Scotland's Education system and support progress to a fairer, more equitable and more just Scotland.
Key themes in the EIS Manifesto, and likely areas to be discussed in tonight's hustings, include: expansion of the teaching workforce; class size reductions; a reduction in teachers' maximum class contact time; an end to zero-hours supply lists. Other areas covered in the EIS Manifesto are early years education, comprehensive education, Additional Support Needs, Instrumental Music in schools, the impact of poverty on education, valuing teachers, quality Further & Higher education, and social justice.
The Hustings, to be chaired by EIS President Carole Thorpe, takes place online on Thursday from 6.30pm until 8.30pm, for EIS members who have registered to attend.
The hustings will also be streamed live on the EIS Facebook page so that all members can have to opportunity to view the event.