The Scottish Trades Union Congress (STUC) has announced that the recipient of the 2019 STUC Equality Award is Khadija Mohammed, EIS, who is a Lecturer in Education at the University of the West of Scotland.
Khadija has been a driving force behind a wide range of work to tackle race discrimination and promote race equality. She is the Founder and Chair of SAMEE, the Scottish Association of Minority Ethnic Educators, which plays a critically important role in ensuring a genuinely inclusive education system in Scotland.
Throughout her experiences of education, EIS membership and postgraduate study, she has been committed to promoting and providing opportunities for coaching and mentoring, leadership and teacher activism for BME teachers wherever possible. Khadija has developed a coaching and mentoring programme for minority ethnic teachers with SAMEE colleagues. This programme has now been delivered to over 50 participants.
She has also spoken publicly about being challenged about her faith, for example, and specifically about wearing the hijab (with some colleagues making assumptions about what that represented).
Khadija commented that she was "delighted to receive this award in recognition of all the good work that goes on around social justice and equality in workplaces. I think in moving forward, it's really important that we encourage everyone to engage in honest, critical conversations around social justice, race and equality issues."
EIS General Secretary Larry Flangan said, "We are very aware from Khadija's work that there's a distinct lack of BME teachers, so to have someone like Khadija who has brought professional expertise but also lived experience to the discussions that we are having, really aids the work that the EIS is doing. I think Khadija's work on equality benefits the union, and in the longer term, will also benefit the profession and encourage more teachers from BME backgrounds to move into the classroom. The EIS warmly congratulates Khadija on receiving this award from the STUC."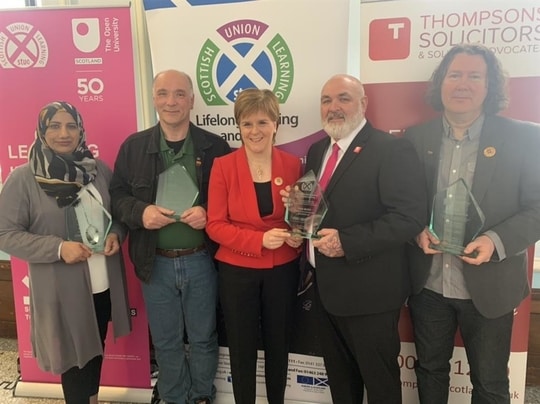 Picture: EIS member Khadija Mohammed (left), recipient of this year's STUC Equality Award, with First Minister Nicola Sturgeon and other STUC award winners.