The EIS has welcomed the launch at the Scottish Trades Union Centre in Glasgow of 'Our Turn', a Safe Passage campaign in Scotland for child refugees; and called for more support for unaccompanied refugee children.
'Our Turn' is a campaign asking the UK Government to welcome 10,000 at-risk child refugees over the next 10 years as part of a new child resettlement scheme; and calling on local authorities to pledge places in their communities for child refugees.
The EIS is calling on local authorities across Scotland to pledge places for unaccompanied child refugees, but also to ensure that the educational and pastoral needs of this vulnerable cohort of children are met.
English as an Additional Language
Many children who arrive in Scotland alone and separated from their families do not speak English, and learning the language is their greatest educational need. It is very troubling, then, that secondary schools in Scotland in 2017 employed only five English as an Additional Language (EAL) teachers, compared with 39 in 2008 (Teacher Census, 2018, table 3.9).
Other concerns about refugee children's education were revealed by 2018 research, which found:
There is a lack of specific funding for refugee education
Often there is a shortage of resources for students' support needs
Appropriate training on an ongoing basis for teachers on understanding the issues affecting refugee children and their families is needed
Teacher workloads impede the ability to meet the needs of refugee children
Refugee children require additional support to help them with language fluency and adjusting to a new educational culture and curriculum, including adequate EAL provision
Bullying of refugee children is common, and some experience racial/religious harassment
When transitioning to post-school education, asylum-seeking and refugee children often struggle to access suitable information and advice on FE and HE.
However, the research found that overall, refugee children have positive perceptions of education; this provides a platform from which to enhance the experience of all refugee children.
EIS General Secretary welcomes the campaign
Larry Flanagan, EIS General Secretary, commented: "We warmly welcome this campaign, and would urge the UK Government, the Scottish Government and local authorities in Scotland to do everything possible to support child refugees, who may have experienced unimaginable traumas, and when separated from family, remain at great risk of trafficking, exploitation and marginalisation."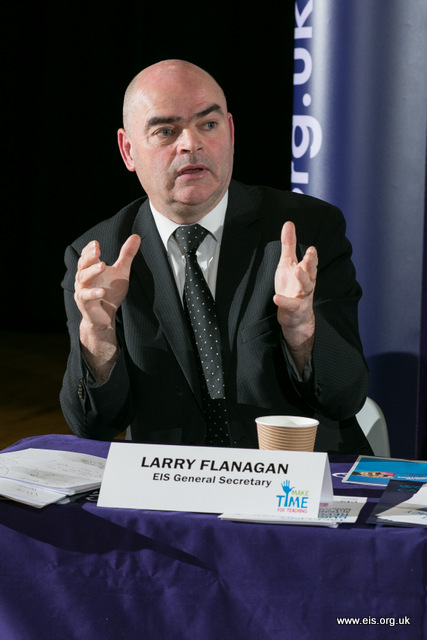 "The EIS will continue to campaign for improved education provision for refugee children; for statutory guardianship services for unaccompanied refugee children; and for enhanced anti-racist education."
"We will continue to provide resources for our members to support them in challenging myths and misunderstandings surrounding immigration in classroom discussions."
"Of crucial importance, also, is adequate investment in English as an Additional Language services, to enable these children to thrive in school and in their new communities; we will continue to make the case for investment in EAL as well as in additional support for learning more broadly."
"ASL provision has been grossly underinvested whilst austerity has prevailed."
"The firm view of the EIS is that once refugee children have been brought to safety, their needs must be met.
"We trust that efforts will be made by all concerned to ensure that Scotland becomes the best place for these children to grow up."