The EIS has launched a week of social media action to highlight the value of instrumental music teaching to Scottish education, to young people, and to wider society.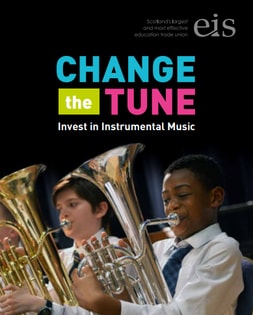 Instrumental music continues to be threatened in schools across Scotland, and has been subjected to increasingly severe cutbacks in recent years. The EIS recently launched an updated Charter for Instrumental Music and continues to call on local authorities to 'Change the Tune' by investing in instrumental music.
For the next week, the EIS will be tweeting messages under the hashtag #ChangetheTune calling for the protection of, and increased investment in, instrumental music in schools.
Commenting, EIS General Secretary Larry Flanagan said, "Although instrumental music teachers play a hugely important role in our schools, their work is often under-appreciated and undervalued."
"At this time of year, when schools across the country have recently been putting on festive shows and end of year concerts, it is an opportune time to highlight the value of instrumental music in our schools and the essential role that IMTs perform in the education of young musicians across Scotland."
"Creativity and independent expression are central elements of Curriculum for Excellence, and these are also key aspects of learning to play a musical instrument."
Mr Flanagan added, "During this week of social media, the EIS will highlight the many benefits of instrumental music tuition for young people. These include increased self-confidence and the ability to perform as an individual as well as within a group."
"The broader cultural and social benefits of supporting and nurturing the next generation of musicians are impossible to overstate, so it is vital that local authorities should continue to support instrumental music tuition for young people in all parts of Scotland."