It's World Teachers' Day, where Educational International (EI) will be highlighting the importance of education and the need to ensure sufficient numbers of highly qualified and appropriately paid teachers to guarantee quality provision.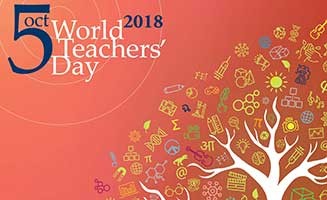 The EIS is supporting World Teachers' Day and calling on local authorities and the Scottish Government to deliver a fair pay increase for all of Scotland's teachers this year. Yesterday, on the eve of World Teachers' Day, the Scottish Government and COSLA chose to walk away from ongoing negotiations on a fair pay settlement for teachers – pushing teachers towards industrial action.
Commenting, EIS General Secretary Larry Flanagan said, "World Teacher Day is a celebration of the importance of education, and of the vital role of teachers in educating the young people who are the future of society."
"However, in Scotland, the Scottish Government and COSLA have marked World Teacher Day by walking away from talks with teacher unions on a fair pay settlement."
"The EIS is running a campaign calling for government to Value Education and Value Teachers – but it is clear by their actions yesterday that they do not value education and value teachers highly enough, despite their frequent claims that education is their top priority."
"The reality is that Scotland's teachers are some of the most overworked and lowest paid of any country within the Organisation for Economic Co-operation and Development (OECD)."
"The recent OECD report Education at a Glance highlighted that Scotland is one of the few countries where teachers' pay has been cut, in real terms, over the past decade."
"The report also highlighted that the average pay for a teacher across OECD countries is equivalent to over £42,000 per year while, in Scotland, pay for a class teacher maxes out at £36,480."
"That is why Scotland's teachers feel so undervalued, and explains the current crisis in teacher recruitment and retention right across the country. Scotland's teachers, pupils and the Scottish education system deserves far better – it is time for the Scottish Government to truly Value Education and Value Teachers."