The EIS has launched a suite of information packs to welcome young people from migrant and refugee families into Scottish schools.
The packs were launched at a special event, held at Hillhead High School in Glasgow.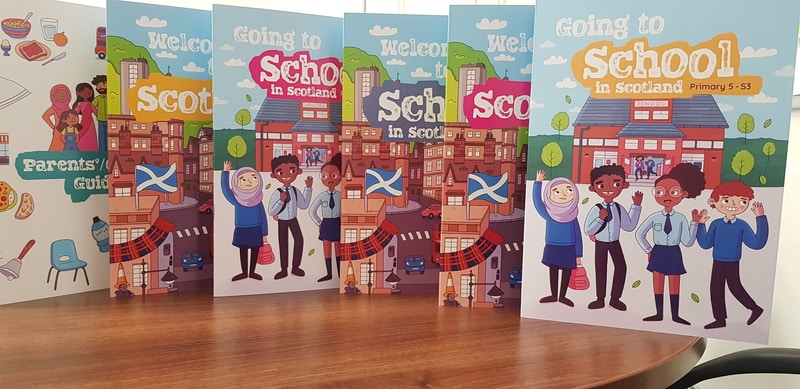 The Welcome Packs are specific to three age ranges (P1-P4, P5-S3 and S4-S6), and are designed to inform young people and their parents of their rights as pupils/students in Scottish education and to convey a positive, welcoming message to the young people about Scotland as their new home.
The Packs contain a series of booklets with colourful illustrations commissioned from a local artist. The booklets aim to give newly arrived young people and their families some information about school education in Scotland, as well as some background about Scotland itself by way of introduction to the country.
Commenting, EIS President Bill Ramsay said, "The EIS is proud to launch these new packs, which will be given to young people who arrive in Scotland as refugees or migrants to help welcome them to their new school communities."
"Each pack is designed for a specific age range of pupils, and offers useful information on Scotland and helpful advice about going to school in this country. We hope that these packs can, in a small but meaningful way, help to ease the often challenging transition to a new country for these young people."
In addition to the new "Welcome to Scotland" and "Going to School in Scotland" booklets, the Welcome Packs also contain a companion booklet for parents/carers, and some stationery and books gifted by the EIS and a sister education union, the American Federation of Teachers.
The EIS is grateful to Hillhead High School and Glasgow City Council for hosting today's launch event, and to all local authorities who will be assisting in ensuring that the Welcome Packs reach the children and young people for whom they are intended.
Distribution and delivery of the packs to schools is being arranged in conjunction with local authorities.
The booklets are also available as PDFs for teachers to browse in the meantime and to use as necessary with young people when the hard copy packs arrive.