Teachers and associated professionals from across Scotland have responded strongly to the call for a lobby of local Councillors and COSLA in support of the 10% pay claim that underlies the EIS Value Education, Value Teachers 2018 pay campaign.
Over the past two weeks, as part of an EIS 'Fortnight Focus' e-lobbying campaign, EIS members have been contacting their local councillors calling on their support for the 10% pay claim that has been submitted via the Scottish Negotiating Committee for Teachers (SNCT).
Today, ahead of a meeting of the COSLA leadership group, EIS members gathered for a demonstration outside Paisley Town Hall. COSLA was expected to agree its response to the 10% pay claim at today's meeting, ahead of a planned meeting of the SNCT joint chairs group next week.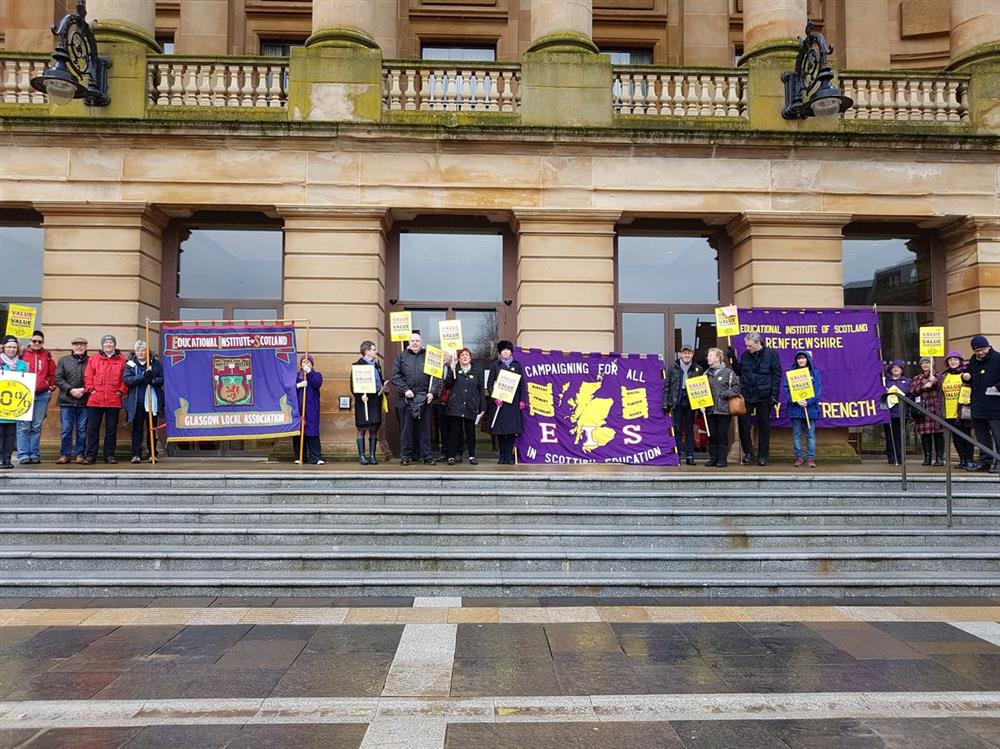 The EIS members who gathered in Paisley reinforced the message to COSLA that it must deliver a fair pay rise in 2018, as the first step to restoring teachers' pay to an acceptable level.
Commenting, EIS General Secretary Larry Flanagan said, "Over the past two weeks, teachers and associated professionals from across Scotland have responded strongly to the EIS 'Fortnight Focus' and sent a very clear message to Scotland's councils on pay."
"After a decade of pay freezes, pay caps and pay cuts, it is now time for a significant pay rise for Scotland's teachers. Pay has been cut, in real terms, by at least 20% over the past decade and take-home pay has fallen by around 25% when changes to pension contributions and national insurance are taken into account."
"This has had a profound and damaging impact on teacher morale, and on the recruitment and retention of highly qualified graduates into the teaching profession."
Mr Flanagan added, "Based on the levels of engagement via the e-lobbying tool on the EIS website, we estimate that around 20,000 emails were sent to Councillors across Scotland by EIS members, calling on them to support the 10% pay increase for teachers and associated professionals."
"This strong e-lobbying campaign, together with the demonstration that was organised outside the COSLA meeting in Paisley today, have sent a message that Scotland's councils cannot afford to ignore."
"Scottish education needs professional teachers, and pay must be improved if the growing recruitment and retention crisis across the county is to be overcome. It is time for a fair pay settlement for teachers, as the first step to delivering the salary levels that all our teaching professionals deserve."