University lecturers who are members of EIS-ULA will commence strike action in 5 institutions across Scotland.
Members of the EIS-ULA overwhelmingly backed strike action in a dispute over pay in a recent ballot. Picket lines will be in place from early on Thursday at each institution.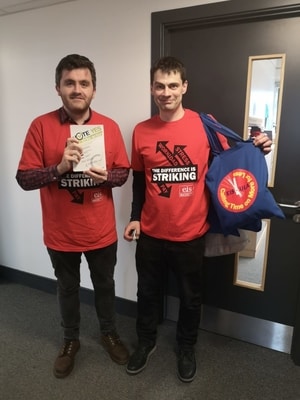 Commenting, EIS General Secretary Larry Flanagan said, "EIS-ULA members have now commenced strike action in pursuit of a fair pay settlement, and will be on picket lines today across the country."
"This dispute has been caused by the fact that the pay of university lecturers has been cut, in real terms, by at least 20% over the past decade, whilst, at the same time, the pay bill for University Principals has soared."
"Lecturers in Scottish higher education institutions are poorly served by UK level negotiations, where management continue to refuse to acknowledge a Scottish dimension to our University system. It is time for management to come back to the table with a fair offer for lecturers."
Mr Flanagan added, "Our members have been forced into this action because university management refuse to negotiate a fair and reasonable offer for lecturers."
"University lecturers have endured a decade of declining pay and soaring workload, and have been offered a meagre 1.8% pay settlement this year – well below the recent settlements achieved in the school and college sectors, here in Scotland, and, indeed, below the average public-sector settlements over the past year."
Strike action will take place in the following institutions, on the following dates:
Edinburgh Napier University, University of Aberdeen, University of Strathclyde, Glasgow School of Art
Thursday, 20th February 2020
Tuesday, 25th February 2020
Monday, 2nd March 2020
Thursday, 12th March 2020
Friday, 13th March 2020
University of the West of Scotland will strike on:
Thursday, 20th February 2020
Tuesday, 25th February 2020
Monday, 2nd March 2020
Wednesday, 11th March 2020
Thursday, 12th March 2020