The EIS has produced new guidance for teachers on challenging misogynistic attitudes among children and young people, 'Get it Right for Girls'.
You can download the report and an accompanying PowerPoint presentation below.
These resources should assist EIS members in schools and colleges in keeping the issue of misogyny to the fore at establishment level, and should support schools to meet their legal obligation to promote equality and tackle sex discrimination.
The materials can be used as the focus of EIS branch meetings, CPD sessions or to inform discussions with SMT or with parents on the issue.
Get it Right for Girls Booklet
Get it Right for Girls PowerPoint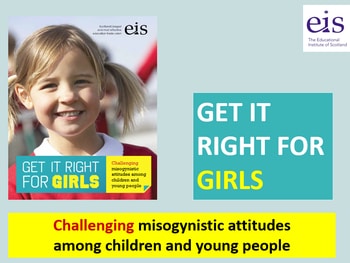 For hard copies of the report please contact Natalie Carroll in the Equality Department.