Elections to the GTCS Council convening in April 2022 open Monday 10th January 2022, with the deadline for voting being midday on Friday 11th February.
The EIS is committed to ensuring strong teacher voice within GTCS Council and to this end is supporting a full complement of candidates across the range of vacancies in the Primary, Secondary and FE Categories.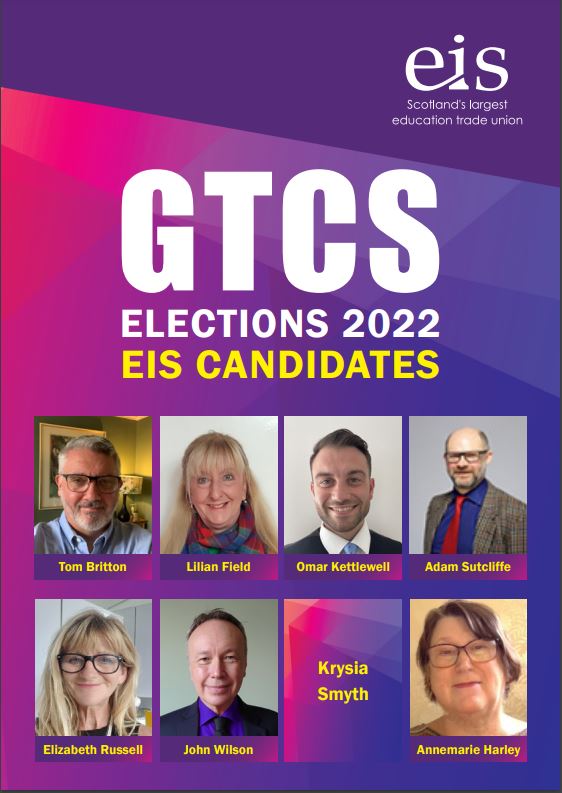 Congratulations to Annemarie Harley who has been elected unopposed in the FE category.
You can play your part in ensuring that the voice of the teaching profession is spoken and heard on GTCS Council by voting for all remaining EIS-supported candidates in the Primary and Secondary categories.
*NB for Secondary members
GTCS published inaccurate information regarding the vacancies within the Secondary category, which has resulted in the EIS supporting only one HT candidate (rather than two) and one too many Teacher candidates. The EIS is in discussion with GTCS about this.
With the agreement of Edward Burns, the EIS is supporting and encouraging Secondary members to vote for:
Liz Russell

Krysia Smyth

Adam Sutcliffe
What you need to do
Make sure:
you are in the correct election/voting category in order to stand for election or vote; and

GTCS hold an up-to-date email address for you so that you receive information about the election, candidates and your secure PIN to enable you to vote.
You can:
add an email address or update your email address; and

request a change to your election/voting category by logging into MyGTCS.
Information can be found on the GTCS website here