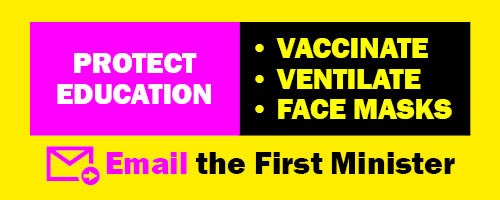 The EIS has written to the FM and DFM as well as the leaders of all the political parties to press home the message around vaccinating education staff. You can read the letter here.

To date over 5,000 members have joined the lobby.

Some members have expressed a reluctance to call for prioritisation but the EIS very deliberately did not call for priority within Phase 1 of the programme as that was clearly predicated on those most at risk of death. 99% of that group will have been covered in the first phase, however, and along with other trade unions, we are calling for prioritisation based on occupational groups, focused on those who are most public facing. An ONS survey only last week indicated that teaching was the fourth highest at risk occupational group.

Whilst the UK JCVI has instead chosen to stick with age groups, arguing that it is organisationally easier, the fact is that Scotland is a small country in charge of its own vaccine programme – it can vary the programme to suit its own priorities and keeping schools open has been a declared aim from Scottish Government. Vaccinating teachers and other school staff is a straightforward way of doing that. As around 35% of teachers will have been vaccinated under Phase 1 the "challenge" around vaccinating the rest is not huge – it would take a few days maximum.

This is also about education continuity. On average over 1,500 staff are absent through Covid related reasons every week in Scotland – this has been as high as 2,500 at times. This absence is disruptive to education delivery, indeed, in secondary schools staff absence over the next period through Covid related reasons could seriously impact on the SQA qualifications.

To join the campaign to Protect Education, click here.