HWB Focus: Relationships, Sexual Health and Parenthood.
Week 1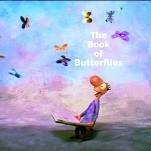 Invite the children to watch this short clip from the Literacy Shed which shows butterflies lighting up the environment - https://www.literacyshed.com/butterflies.html

Using the clip, invite the children to think about the butterflies floating out of the book – can they think of some 'wow' words to describe them? Can they paint the butterflies with these 'wow' words next to them?

Invite the children to make their own butterflies – using whatever resources they have and prefer. This might be a 3D model, a chalk drawing or even a mobile. Hang them in the classroom windows or in their windows at home to cheer up those people in their neighbourhood who are out for a walk. Some examples from the Woodland Trust can be found here - https://www.youtube.com/watch?v=UDNFQ7z4Wcs
Week 2
Note in relation to the use of online resources
Where online resources have been referenced, access to the resource is currently free. In some cases, this may be for a limited period and members should monitor their engagement on this basis. All online references have been selected on an illustrative basis for the relevant potential learning activities. There may be other websites and platforms which will provide similar activities. In referencing these websites, the EIS does not endorse any advertisements shown on the page, the views of those presenting or the wider content of the website.