A major survey on teacher well-being, commissioned by Scotland's largest teaching union the EIS, has highlighted the severe workload pressure that teachers are increasingly being placed under and the impact on their health and well-being.
The EIS commissioned the survey, which was carried out independently by Scott Porter Research, due to concerns over how increasing workload, particularly unnecessary paperwork, is damaging teachers' health and having a negative impact on the time available for core learning and teaching in the classroom.
Commenting on some of the most significant findings in the survey report, EIS General Secretary Larry Flanagan said, "Almost 7000 teachers made the time to take part in this survey, which represents a significant proportion of both EIS membership and the Scottish teaching profession overall."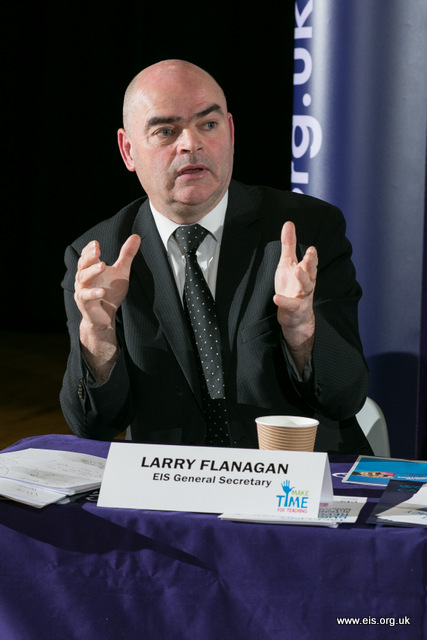 "The survey results confirm the deep-set impact of workload pressures on teachers and lecturers, largely arising out of the changes to the curriculum, and paint a worrying picture of a profession under the cosh. Teaching is a noble profession but the fact that almost half of the respondents would be reluctant to recommend it as a career, speaks volumes for the mood of teachers and lecturers."
He added, "It's no surprise that the greatest focus of job satisfaction is the work undertaken with pupils and students because teaching is about relationships. It is also interesting to note the correlation between a greater sense of well-being and the practice of collegiate and distributive leadership approaches, although it is disappointing to note that only 50% of colleagues believe themselves to be in collegiate working environments."
"Overall the statistics provide a substantial body of evidence which should be studied by all involved in Scottish education, and which might hopefully lead to a renewed effort to tackle the issue of excessive workload."
Almost 7,000 members took part in the exercise, producing a validity rating of 99%. The range of responses provided a good refection of EIS membership across all sectors and at all levels, allowing for detailed analysis to be undertaken.
Amongst the key findings of the survey are:
Just 33% of respondents feel generally satisfied in their working life

Only 26% of respondents feel very well, health-wise, in their job

Just 22% of respondents feel they have a very good work/life balance

A mere 16% of respondents reported no current work-related stress

0% of respondents never feel stressed at work. Only 5% "very rarely" feel stress

Only 14% of respondents report lower levels of stress compared to last year

Just 12% of respondents are satisfied with workload at present

And only 9% of respondents are satisfied with workload in general

Just 33% of respondents would recommend teaching as a career.
Conclusions based on the survey returns include:
Wellbeing and satisfaction with the teaching profession at the present time are low and stress levels are very high

Whilst Secondary and Primary are least satisfied overall, the main positive and negative issues for the profession are consistent across all sectors

Positives relate principally to satisfaction regarding students' achievements

The main issues to resolve are clear, consistent across many responses and interlinked:

excessive workload and working hours being 'demanded'

linked to this – the very large amount of (unnecessary) paperwork

number and speed of changes – in particular to the curriculum (CfE)

issues with management/leadership.
Overall, the survey returns indicate:
All in all it appears that teachers and lecturers feel they are climbing a never ending mountain that makes more and more demands of them, with little prospect of respite

Responses show that teachers and lecturers, as well as being dissatisfied, do not feel that they are being heard, valued as professionals or given the support they require

As a result, the bank of goodwill that drives their desire to remain in the profession is steadily decreasing and their warning is that it is not limitless and will indeed run out.