It has been a long day for our group, and everyone is mentally, physically and emotionally exhausted. But no-one complains, perhaps because it would feel wrong to do so in a place where so many suffered so much in the past.
The group of pupils in our party are a credit to themselves, to their families and to their schools. Despite all that they have endured on this arduous visit, they remain absolutely focused on all that they are seeing, all that they are hearing and all that they are experiencing.
It is dark now and heavy rain is falling all over the camp. Soon it will be time to take the long walk back through the woods and along the railway tracks to board the coaches that are waiting to take us back to Krakow airport.
Before we leave, there is just enough time to visit one last exhibit which, among other personal possessions recovered from "Canada", includes a display of personal photographs, brought with them to Auschwitz by those who were transported here.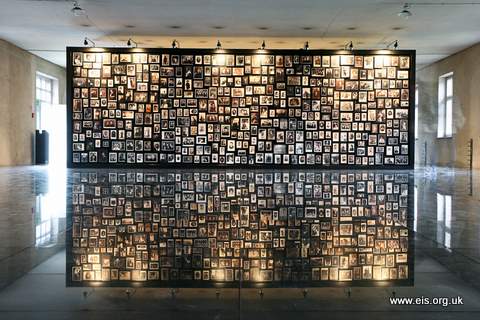 It is a genuinely moving experience to look at these photographs, which document many personal moments of Jewish men, women and children before the Holocaust.
Smiling couples on their wedding days, children dressed in their best clothes for a family gathering, holiday snaps, and happy pictures of children at play – every imaginable variety of personal photograph is on display here.
As you search the sea of faces, you begin to notice people who look familiar – a happy couple who look like one in your own family, a kindly gentleman who makes you think of a favourite uncle, a baby who reminds you of a child of your own.
This exhibit is a fitting final stop for visitors, reminding us all that despite the terrifying scale of the Holocaust and the massive number of victims, it is important never to forget that each one was an individual, a real person with their own personal quirks, their own failings, their own hopes and dreams.
As we prepare to leave this final exhibit, we meet with Rabbi Marcus who offers some readings and some quiet time for personal reflection. For those who are religious, he offers time to pray. For those who are not, some time to gather their own thoughts and to try to come to terms with all that they have seen.