Stand Up For Quality Education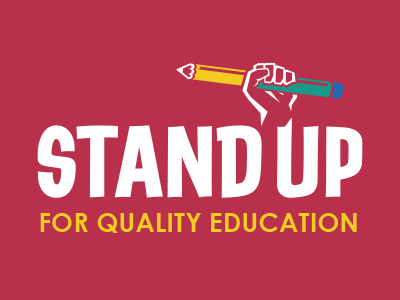 SU4QE: Lobbying Your SNP MSP
An email was sent to all school members on Saturday 7th October asking them to email their SNP MSP(s) regarding implementing the SNP manifesto promise that they were elected to the Scottish Parliament on, committing to reducing weekly contact time by 90 minutes.
Action for Reps: Approach members and ask them if they have emailed their SNP MSPs using the email sent on Saturday October 7th. If not, please ask them to do so – only the specific email link sent to members on 7th October works for each member.
Solidarity with EIS-ULA
Colleagues in EIS-ULA have an open statutory ballot for industrial action on pay for 2023-24. Years of below inflation pay offers have drastically eroded salaries in real terms and contributed to the gender pay gap.
Action for Reps: Please send messages of solidarity to @ULA_EIS on X, encouraging voting so that members can gain an industrial action mandate so that they can stand up for themselves on pay.
Your EIS Local Association
It is important for School reps to engage with their Local Associations in order for information and views to be shared to Local Association Secretaries and EIS staff who attend LA meetings, and for information to get from the LA into schools. Please keep in contact with your Local Association Secretary and your Local Association Committee of Management/Executive Committee.
Action for Reps: Contact your Local Association Secretary to find out about scheduled meetings and events over the coming months and get involved.
Professional Learning Opportunities
Looking ahead to 2024, Our Wellbeing, It Matters! on Saturday 13th January, 10am-2.30pm, at the Radisson Blu, Glasgow, is a day focused on collaboratively building our workplace wellbeing, while strengthening our own. Find out more and register your interest on the EIS website.
Action for Reps: Please visit the professional learning section of the EIS website and make yourself aware of upcoming professional learning opportunities and encourage the members in your branch to do the same.
TUC Reps Training
Training is available for all EIS Reps and activists who are thinking of becoming a Rep. The 4-day courses are offered in 2x2 day blocks and are aimed at Reps who are relatively new in the role or those who have had no formal union training.
Action for Reps: If you are a Rep, Health and Safety Rep or a member interested in becoming one, then please visit the Meetings and Events section of the EIS website for all the latest courses and contact your Local Association to be nominated.
New Staff and Probationer Teacher Recruitment
Recruitment is key for all trade unions, including the EIS, and our reps are critical to us being able to recruit. Our membership is at its highest ever, thanks to the hard work of our reps in branches.
Action for Reps: Please approach any new probationers who are not yet members to ask them if they would like to join the EIS. Membership is free for the 2023-24 probationers until December 2024.
EIS student teachers automatically become full EIS members when they become probationers- however, please ask your probationer teachers to update their membership details.
Please also approach all new staff, to check if they are an EIS member and to try to recruit any teacher who is not a trade union member. If they are already EIS members, then they will need to update their school details.
Remind them to log on using their EIS number. It is quick and simple to set up a password. Alternatively, as a Rep, you should have access to member lists for your school and you can update details on their behalf.
Action for Reps: Update member details here. Please also put up the EIS recruitment posters sent to all schools in late June on school noticeboards.
Independent Schools
Some independent schools choose not to recognise trade unions, despite high levels of EIS membership. The EIS will continue to push for recognition and representation to ensure that our members are treated fairly and are aware of their rights.
Action for Reps: If you and your colleagues wish to get your EIS Branch recognised by your independent school then please contact your nearest Organiser. Find out more.
EIS Organisers
We have a team of eight Organisers to support Local Associations, Branches and Reps. If you would like an Organiser to support you or your branch at an (in-person or online) meeting, then please contact your Organiser.
Our Organisers can support local campaigning, advise on school issues, provide training, branch-building advice and brief members on our latest national campaign – Stand Up for Quality Education.
Palestine and Israel, Understanding the Conflict
With the latest outbreak of violence in the region, members may find this skills-based resource, focusing on the conflict between Palestine and Israel, helpful in supporting pupils to understand the conflict. In a turbulent world, it is essential that pupils are equipped to navigate contested topics, evaluate evidence and arrive at their own conclusions. Materials, containing both Student and Teacher Guides, can be accessed on our website.
Action for reps: Please highlight to members.
St Andrew's Day March and Rally 2023, Saturday, 25th November 2023
This is a crucial year in the fight against racism. Racist UK immigration policy and rhetoric is only getting worse. We need to stand together in a show of solidarity after a year of the far right trying to gain footholds in our communities. Further information and assembly time:
'From Erskine to Elgin, the Far Right is Not Welcome!'
Saturday, 25th November 2023
Assemble: 10.30am at Glasgow Green
March off: 11am
Rally: 12 noon at Technology and Innovation Centre, Strathclyde University
Bring your banners and flags!
Informal Equality Networks
The informal EIS Equality Networks connect EIS members who are underrepresented in the profession, and support them in keeping up to date with equality news and initiatives. They are informal spaces to meet others, make connections and find out more about how the work of the EIS relates to them.
The Networks advise the EIS Equality Committee on equality issues, and provide an opportunity for members to shape EIS policy.
Action for Reps: Please make members aware of EIS Equality Networks.