HWB Focus: Mental and Emotional HWB, Relationships
Week 1
Second Level
Recap on the rainbows of hope. Hope is one of many emotions – what emotions can they think of? Link the emotions to colours and ask them to draw a heart, choose a colour for each of the different emotions and express how they are feeling through this drawing. Examples can be found here - https://www.pinterest.co.uk/pin/415105290625952284/

Now focus on the colour red. This is often used to capture feelings of anger. Some people might have felt angry or frustrated at some time over the last year because they can't go out and see friends or relatives. You may wish to use the resources on https://www.bbc.co.uk/bitesize/topics/zbpv9j6/resources/1 to invite the children to think about times when they have felt angry and to come up with three strategies to help them manage their emotions.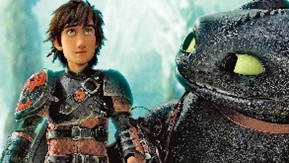 Second Level
Recap on the lesson from last week about how author, Cressida Cowell, created Toothless and Hiccup. You might want to invite the children to design their own dragon, using whatever materials they choose. They might even want to make a 3D model of their dragon. Remind them to include details of the dragon's special power, its scariness or cuteness factor (remember dragons can be pets too!), its speed and how they managed to train it! For those who want some support – there is a template here - https://www.booktrust.oruk/globalassets/resources/childrens-laureate/2019-21/how-to-train-your-dragon-design-your-own-dragon.pdf

The children may want to explore a bit more about sound effects in bringing the book and their dragons to life. The following clip from the makers of 'How to Train your Dragon' explain how they did this and the importance of each dragon having its own sound - https://www.youtube.com/watch?v=cN5TOGRs2qg

The children might want to create their own sound effects for their dragon to alert the audience when their dragon is coming – what does it sound like walking, what is its roar like, what is its laugh like, what noises does it make when it eats, what about when it flies? Using different household or natural objects – create the sound effects for the dragon. They may want to record them if they have a phone.

Ask the children to present short presentations (which could be recorded) about their dragons and introduce them to their family or their class (if possible remotely). You might even prepare a class book of dragons and how best to train each one!

Now if they have access to the film – get some popcorn and enjoy a family movie!
Note in relation to the use of online resources
Where online resources have been referenced, access to the resource is currently free. In some cases, this may be for a limited period and members should monitor their engagement on this basis. All online references have been selected on an illustrative basis for the relevant potential learning activities. There may be other websites and platforms which will provide similar activities. In referencing these websites, the EIS does not endorse any advertisements shown on the page, the views of those presenting or the wider content of the website.